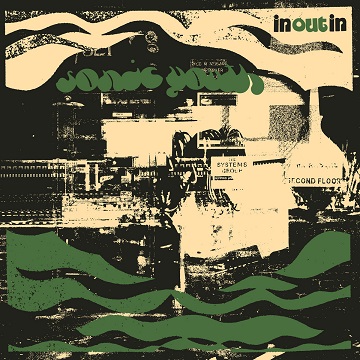 COMING MARCH 11 2022 on THREE LOBED RECORDINGS...
SONIC YOUTH "IN/OUT/IN"
DIGITAL/CD/CASSETTE/VINYL
SEE BANDCAMP FOR LINER NOTES + DETAILED TRACK INFO + PREORDER
1. BASEMENT CONTENDER
(previously released on MIX TAPE #7 & RARITIES 3)
2. IN & OUT
(previously released on NOT THE SPACES YOU KNOW, BUT BETWEEN THEM)
3. MACHINE
(previously released via THE ETERNAL preorder & RARITIES 3)
4. SOCIAL STATIC
(previously released on SONICYOUTH.COM & RARITIES 3)
5. OUT & IN
(previously released on NOT THE SPACES YOU KNOW, BUT BETWEEN THEM)
see the song database for more information on each track.
(i believe RARITIES 3 is temporarily (?) unavailable on bandcamp due to the presence of multiple IN/OUT/IN tracks)
---
october 31 2020 - hello and happy halloween! another bandcamp round-up for ya: WORLD TRADE CENTER BENEFIT 2001, LIVE IN DENVER 1986, LIVE IN TORINO 1987, RARITIES 1, RARITIES 2, and RARITIES 3.
---
july 6th 2020 - hi again! just a quick update to keep up to date w/ their bandcamp offerings...new since the last update are: Live At All Tomorrows Parties 2000, Hold That Tiger (Live At Cabaret Metro 1987), Live In Bremen 1991, Live At Brixton Academy 1992, Live in Yugoslavia 1985/1987, and Perspectives Musicales - Live At Cat's Cradle 2000. In addition to these live releases, the SYR series (including Silver Session) is also available, some with a physical release option.
---
may 6th 2020 - hello and hi! every wednesday this may, i will be updating one of my SY sites. they will mostly be "soft" updates, not too intense, but a reasonable offering after a few years of inactivity. in addition, i will be launching a new SY project "soon"...more details as the month progresses and i see how much or little work i get done...

anyway, discography! well, you can pretty much summarize sonic youth's output since the last update in one of two ways: vinyl reissue or live archive download. yes, after finishing off the fantastic DGC-era vinyl reissue campaign in 2016, the band shifted their focus to releasing full concerts from their vast archive. in late 2018 it was announced that they would be using nugs.net to share previously unreleased live material via streaming or download. i've added a page for these releases here. as of right now, the band seems to have moved from nugs to bandcamp as a forum for their digital releases, but it's also been a while since a new concert was offered...

a small russian label took it upon themselves to fill the gap by issuing recordings from sonic youth's 1989 performance in moscow as a double-vinyl "bootleg", which the band has also been offering for digital purchase on bandcamp.

lance bangs' daydream nation concert film has yet to see an official physical release, but has been shown many times around the world, often partnered with contemporary daydream material and a Q&A with lance and SY crew.

thank you for visiting! stay tuned...
---
may 30th 2016 - good to see you! in addition to the standard new items, the site has undergone minor reorganization:
ALBUMS - now split into sub-categories: albums, compilations, live, soundtracks
COMPILATIONS - now contains previously separated SOUNDTRACKS. i also listed the song included on the main list for easy browsing
BOOTLEGS - "official bootlegs" finally removed and dispersed to their proper place throughout site
SELF-RELEASED - new section listing the band's own releases, including the SONIC DEATH fan club, GOOFIN', and SYR

certain items may appear in multiple sections now. please let me know if you have any updates. thank you to everyone who contributed, as always this thread and its participants are awesome (not me, though - i took so long that many of the image links are dead now - sorry kris, stu, etc!!). i think this is a pretty solid update - i know i'm a little lax w/ certain details now (hey, if you want the track list and regional release variations for every compilation with "Kool Thing" on it, check out DISCOGS!) but i do still like to get things right, so let me know if there's anything i can fix/add. thanks!! and stay tuned for a brand new SCREAMING FIELDS OF SONIC LOVE hyperstation information communication soon!

SPINHEAD SESSIONS out JUNE 16th!!! (check out the march 2009 update below where I first mention the MADE IN USA deluxe reissue that eventually morphed into this release)
---
march 5th 2011 - hi everyone, i've added a few new items, mix tape #8, and a handful of scans people have submitted. i've probably missed a few things but i'll catch em in the next update. big thanks to: hiland hall, justin wood, krischan adolphi, martin van rappard, stu, james/radarmaker, dasx, rick swan, frank van den elzen, steve, andrea innocenti, igor mihovilovic, francis elliot, and shannon.
---
howdy! it's january 4th, 2010. this site should be up-to-date thru the end of 2009. new items are in this colour. in addition to those, there's plenty of updated info to be found if you seek it out... things like the onsoku seinen japanese bootleg, scans of 'dirty boots' and 'sonic nurse' cassettes, that weird self-titled/whores moaning split 12", and more and more and more and more... you'll have to find it yourself, though, as my new years resolution was to stop making lists.

well, okay, one more list. major thanks to: JAMES/radarmaker, paul skinner, steven boulby, brian macdonald, vladimir machan, derek, saul david delgadillo, tiago mesquita, andreas, cindy finch, jani lustrek, hiland hall, colin chantler, marc wilkes, breathmint !, britta heuschen, marcin, moshe levy, abraham@discourage, andy galkin, michael goodall, bastiaan van zwieten, gabriela fuenzalida mardones, john bacus, troy, sven claus, martti jousimo, maarten lammers, john-erik bye johansen, monty rubera, martin van rappard, richard lesses, and krischan adolphi, who let me fill in some imagery gaps from his very cool online SY collection (click his name and explore!). also, anyone who contributed to this thread -- please keep it up!!

anyway, happy new year, hope y'all appreciate this update, there's about 150 new images if you dig for em, and while i often make some subtle changes to the text on pre-existing pages, i do plan to comb thru all of the album write-ups at some point to adjust any facts that i may have more knowledge on 7 years after they were written (for the most part)...stay tuned!

xx chris
---
howdy! it's march 4th, 2009. i have to apologize, not for taking a year to update, which is customary, but for not getting this update posted in january like i'd anticipated. please note that any updates sent to my e-mail or posted in this thread since roughly mid-january will not be incorporated yet, but will appear in the post-eternal update circa june or july. and now, some comments!
FIRST: "new" section! i say 'new' because this was actually supposed to be in the discography when it was launched in 2002, but it was probably driving me crazy organizing/co-ordinating it at the time, so i just shelved it. but i've finally found a solution that's allowed me to add it: just don't organize it! ..the new section is, of course, at long last, a rough 'merchandise' catalog detailing t-shirts, posters, and assorted promotional oddities. now, compiling and categorizing all of this back then caused me so much frustration that i quit seeking new merch out for years, so that's where you folks come in! i know i'm missing an embarassing amount of t-shirts, posters, etc, so please send me what you've got and i'll just keep adding, and perhaps eventually sort it all out. i really love this shit and am pretty happy to incorporate it into the site 7 lazy years later!
SECOND: site should be up-to-date for 2008! a fine year indeed, two long-awaited (and fucking phenomenal) SYRs, a bizarre non-hits coffeeshop compilation w/ a moody new tune, and the long-awaited reissue of..master=dik? and now, 2009. free from geffen and in the arms of matador, SY are currently finishing their 17th studio album 'the eternal' which will be in stores in june, accompanied by some cool 7" releases and a unique live LP for those who buy early. plus there's a personally long-awaited (and never truly expected!) release forthcoming, the 'made in usa' 2xCD reissue, the first in their 'soundtrack' series! pardon me while i ponder this dreamlike revelation, before i sincerely thank a huge group of people who contributed to this update in ways big and small: thomas scott, zac horn, florent devaux, anders leirvik iv, steve boulby, colin pierce, sven/fotografisch, franco ferrari, trent a reynolds, petter flaten eilertsen, nick goode, roberto torres-torres, magnus andersson, tom agin, peter blamey, steve/baytree, laurent le moŽnner, steve daffern, giordano schillaci, matt/&sarah, zacharias tienhaara, daniel talbot, mike ziegler, ace blaze, philippe/alphi, martin stein, JAMES/radarmaker, and last but not least, meow-said-the-pirate. YOU ALL ROCK, INDEED. i apologize if i missed anybody's name or contribution, please contact me again. keep it coming, everybody! it will get added. i apologize for making y'all wait a year for an update but hey, at least it wasn't five years this time...
new items are in this colour this time around.
NEW ITEMS
ALBUMS
Hits Are For Squares
SINGLES/EPs/PROMOS
Sonic Youth and Friends...
COMPILATIONS
DJ Spooky "Sound Unbound"
BOOTLEGS
Hits 1988-2002
VIDEOS
Le Confort Moderne 1985-2005
IMAGE UPDATES
ALBUMS
SONIC YOUTH -- added scans of test pressing

CONFUSION IS SEX -- added scans of vinyl w/ 'sonic youth' record labels + thai cassette

BAD MOON RISING -- added scans of homestead labels + WONDER/BOREDOM variations in CD liners + master tape

SISTER -- added scans of cassette liner, dutch vinyl label, master tape/reel

DAYDREAM NATION -- added scans of blast first vinyl w. signed poster

GOO -- added various record label scans, promo tape, pirate cassette, MFSL test pressing

DIRTY -- added scans of pirate cassette, promo cassette, thai cassette

EXPERIMENTAL JET SET, TRASH & NO STAR -- added scans of five different cassettes!

SCREAMING FIELDS OF SONIC LOVE -- added scan of japan CD

MADE IN USA -- added scan of japan CD

WASHING MACHINE -- added scan of cassette

A THOUSAND LEAVES -- added scans of promo CD + malaysian cassette

MURRAY STREET -- added scan of thai cassette

SONIC NURSE -- added scan of various promo CDs + weird HDCD

SINGLES/EPs
MASTER-DIK -- added scans of 2008 CD RELEASE + test pressing.

CANDLE -- added scan of cassette version!

TOUCH ME I'M SICK -- added scans of sleeve variations

KOOL THING -- added scan of cassette

DISAPPEARER -- added more art panels

DIRTY BOOTS -- added scan of promo vinyl

SHAKING HELL/SONIC LIFE -- added scan of book

SU NIOJ/SONIC LIFE -- added scans of book/disc

BULL IN THE HEATHER -- added scan of sleeve/disc

TURN IT UP! TURN IT UP! -- added scans of book

SYR1 -- added scans of vinyl

SYR2 -- added scan of blue, marble, + black vinyl

SYR3 -- added scan of test pressing

KALI YUG EXPRESS -- added scans

IN THE FISHTANK -- added scans of japan CD

TERRASTOCK BOX -- added scans of box

UNMADE BED -- added more scans

INCINERATE -- added more scans

COMPILATIONS
SOUNDS BLASTS! 2 -- added better scans

NOTHING SHORT OF TOTAL WAR -- added scan of cassette

SST GODHEAD STOREDUDE IN-STORE PLAY DEVICE #5 -- added scan of track list etc

SOUNDTRACKS
JUDGMENT NIGHT -- added pirate cassette

MY SO-CALLED LIFE -- added scan of cassette

JUNO -- added scans of several versions

MISCELLANEOUS/OTHER
BLACK BOX -- added scans of the box

MELBOURNE DIRECT -- added scans of everything

VIDEOS
THE BEST OF MTV's 120 MINUTES -- added scans of laser disc

BOOTLEGS
COTTON CROWN -- added test pressing scan

WALLS HAVE EARS -- added scans of every last fucking inch!!! if i was 13 again i'd be amazed.

HAPPINESS IS A WARM GUN -- added scans of LP

THE MIRA TAPES -- added scans of vinyl

NOBODY BETTER LAY A FINGER ON MY BUTTAFUOCO -- added scans, finally!

100% LIVE -- added scans of cassette version


There were a fair amount of minor updates all over the site, from adding catalog numbers to removing question marks, etc. I think most of the cool stuff can be found on pages listed above (any of those 'Russian Flexi' bootlegs have a mini-guide explaining their origin, that "Godhead" comp has the mysterious 'Sonik Death' track, and there are some very cool cassette releases of almost every album, single, or compilation still to be discovered in some far corner of the world). Please look around, enjoy, and if you have any information you'd like to add, please e-mail me!

Thanks!

Chris
---
howdy! good to see you again. it's january 18th, 2008. please see below for a list of 60+ new items, and 400+ new images. other than that, just look around. if you know something i don't, please drop me a line. thanks, come back soon!
NEW ITEMS
ALBUMS
Dirty [deluxe edition]
SINGLES/EPs
Beautiful Plateau
COMPILATIONS
This Is Next - Indie's Biggest Hits Volume 1
SOUNDTRACKS
Juno
VIDEOS
Individal music video entries for Hoarfrost, Nevermind (What Was It Anyway), The Empty Page, Disconnection Notice, Peace Attack, I Love You Golden Blue, Incinerate, Reena, Do You Believe in Rapture?, Jams Run Free, Swimsuit Issue, and Nic Fit.

As you navigate the site, entries on the above list will be featured in this colour. In addition, a new section dedicated to SY's exclusive web-only downloads is now available in the header at the top of the screen.
IMAGE UPDATES
ALBUMS