TRACK LIST:
| | | |
| --- | --- | --- |
| | artist | title |
| 2-02. | Sonic Youth | Expressway To Yr Skull |
NOTES
This is a 3xCD compilation featuring "Expressway To Yr Skull" on disc 2, track 2.
Steve Lacy, Ennio Morricone, Coil, Hands To, David Toop & Max Eastley, King Tubby & Vivian Jackson, Fennesz, Derek Bailey, Bali Traditional Musicians, Einstürzende Neubauten, AMM, Mars, Cabaret Voltaire, Tony Conrad with Faust, Designer, Torture, Fela Kuti, Art Ensemble of Chicago, Spring Heel Jack, This Heat, Nurse With Wound & Stereolab, Jac Berrocal, Sun Ra, Christian Marclay, John Cage, Yoshihide Otomo, Bjork, Pauline Oliveros, Keith Hudson, Terry Riley, William S Burroughs with Ian Sommerville, Suicide, Supersilent, Pan Sonic, Deutsch-Amerikanische Freundschaft, Larry Young, David Behrman with Gordon Mumma, Fushitsusha, John Coltrane with Alice Coltrane, John Fahey, and Diamanda Galas also appear.

RELEASE INFO

CD
RELEASE DATE

ORIGIN

LABEL

CATALOG #

11/18/02

Europe

Mute

CD STUMM 220

NOTES: 3xCD compilation.

INFO NEEDED FOR THIS RELEASE
Please write me w/ anything that's missing!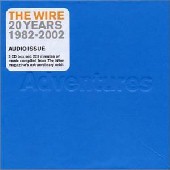 cover