TRACK LIST:
NOTES
This was an improvisation recorded live direct to acetate at the Corduroy Records factory in Melbourne, Australia during the June 2004 Nurse tour. The quartet (minus Kim) plugged in and made a racket live over 4 sides of vinyl! It was released as a limited edition 2x12" w/ artwork by Kim.
I believe this was recorded on June 22nd, 2004.

RELEASE INFO

LP
RELEASE DATE

ORIGIN

LABEL

CATALOG #

2005

OZ

Saucerlike Recordings

SL008

NOTES: 2x12" limited to 800 copies!
INFO NEEDED FOR THIS RELEASE
Please write me w/ anything that's missing!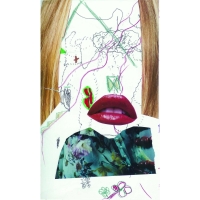 cover


cover


side A


side B


back


side C


side D