TRACK LIST:
1.
J'Accuse Ted Hughes
22:53
--
2.
Agnès B. Musique
18:15
NOTES
Sonic Youth's long-standing claim that they would release "J'Accuse Ted Hughes", the 20+ minute piece with which they chose to open their April 8th, 2000 performance at the first All Tomorrow's Parties festival, has finally been realized in the form of SYR7. The song, then titled 'New Drone', alienated a crowd of people who presumably intended on hearing a set of songs they were familiar with, and were instead treated to this lengthy largely improvised monster of noise that builds slowly over its 23 minutes, featuring spoken word courtesy of Kim roughly 8 minutes in. They followed this brave choice with a series of mostly instrumental tracks from the yet-to-be-released 'NYC Ghosts & Flowers' LP, which seemed to annoy people further. Only the encore of 'Sunday' offered the crowd any recognition. The performance was largely criticized, including the hilarious NME review boasting the headline "Goodbye 20th Century, Goodbye Talent" which SY chose to use for the cover of this EP!
8 years later, this legendary performance thrilled many fans with its release, though it brought criticism of a different kind: this was the first SYR to be released on vinyl only (though it was also made available via digital download for those without spinny needle machines). Many fans objected, but hey -- SYR6 (and later SYR8) were exclusively CD-only, so anybody demanding a complete collection on either media format is sadly out of luck.
Oh, the b-side! To quote sonicyouth.com: "'Agnes B Musique' is a soundtrack-style piece recorded at the band's own Murray Street Studio in 2001 for a never-to-be realized collaboration with French clothing designer Agnes B. This 18 minute long musical piece was recorded with a 5-piece version of SY, the 4 members of SY being joined by Jim O'Rourke who also mixed 'Agnes B Musique'." This is somewhat contradicted by the notes on the record sleeve: "recorded at Echo Canyon, NYC, 19th January 2003. Mixed on the 4th of July 2003."
Colour = Purple
Language = Arpitan (aka 'Ancient French')

RELEASE INFO

LP
RELEASE DATE

ORIGIN

LABEL

CATALOG #

04/22/08

US

Sonic Youth Records

SYR7

NOTES: vinyl only release. 33 1/3 RPM
INFO NEEDED FOR THIS RELEASE
Unfortunately I've already stuck this album up on my wall with the rest of the vinyl SYRs, so I can't scan the back. Could somebody please submit a larger scan of the back cover?
Please write me w/ anything that's missing!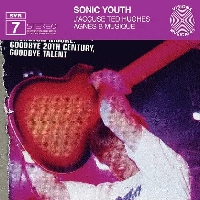 front cover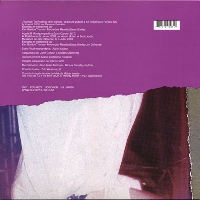 back cover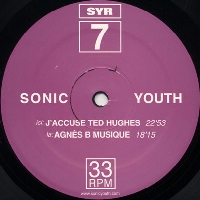 side A label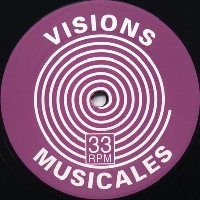 side B label