TRACK LIST:
| | | |
| --- | --- | --- |
| | artist | title |
| 14. | Sonic Youth | World Looks Red (live) |
NOTES
A compilation featuring performances from various Free Yr Radio concerts, including Sonic Youth's July 21, 2007 set at the Urban Outfitters clothing store in Santa Monica, California. SY's opening song, "The World Looks Red" (which I requested, and was dedicated to me!) is included on this set.
This track was later collected on Rarities 2.
To quote urbanoutfitters.com:

Free Yr Radio! Crafted by Toyota Yaris and Urban Outfitters, the Free Yr Radio phenomenon unfolded over the course of 2007 through a series of unbelievable concerts, events and activities - all designed to help raise much needed funds and awareness for non-commercial radio here in the U.S. For decades, indie radio has been the breeding ground for some of the most influential artists in music - artists like those included on this special compilation album. Each of these artists has been influenced and nurtured by non-commercial radio, and so it should be no surprise to see them giving back - lending time, creativity and music to further the cause. Featured here are exclusive live recordings, b-side tracks and previously unreleased material from some of our favorite bands, including Sonic Youth, Dinosaur Jr., Man Man, El-P, Grizzly Bear, and Rogue Wave. And all of this music really does contribute to a great cause, as the net proceeds from the sale of this CD will be divided equally among Free Yr Radio's 2007 partner radio stations. So, we've said it before, and we'll say it again: Free Yr Radio!!!

Track listing:

1. Klaxons: Golden Skans [Erol Alkan's Ekstra Spektral Edit]
2. The Ponys: Hara Kiri [Live on Daytrotter]
3. Voxtrot: Stephen [Live on Daytrotter]
4. The Long Winters: Commander Thinks Aloud [Live]
5. Annuals: Swing Low, Sweet Chariot
6. Man Man: Easy Eats [Live for Free Yr Radio]
7. The Rapture: Crimson Red
8. Rogue Wave: Publish My Love [Live for Free Yr Radio]
9. Tapes 'N Tapes: Cowbell [Live for KEXP]
10. Dinosaur Jr.: Yer Son
11. Grizzly Bear: Little Brother [Live on Daytrotter]
12. El-P: Poisenville Kids No Wins [Live for Free Yr Radio]
13. Dntel: The Distance [Metronomy Remix]
14. Sonic Youth: World Looks red [Live for Free Yr Radio]


RELEASE INFO

CD
RELEASE DATE

ORIGIN

LABEL

CATALOG #

2007

US

?

?

NOTES: CD compilation.

INFO NEEDED FOR THIS RELEASE
Please write me w/ anything that's missing!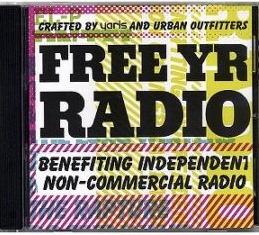 cover