UPDATED 12/25/20
Hi everyone! One more current Thurston piece to end the year...it's another great Premier Guitar interview that you can check out here. There's a gear overview as well as specific details on some of the By The Fire songs, a bit of Jazzmaster chatter, and some tuning info. Check it out and grab a print copy if you can! It's the January 2021 issue.
I was hoping to have another magazine to add to the pile, but it seems to be lost somewhere in the Pacific Ocean...particularly disappointing for me as it's clear from the auction image that this Australian Guitar magazine went ahead and printed several of my nyc ghosts tour photos directly from this site! Nurse era articles are always good reads, too. So, if you happen to have issue 42 of Australian Guitar magazine and would like to part with it...please reach out!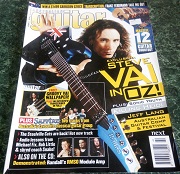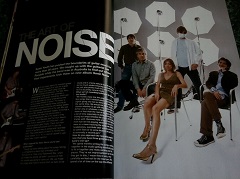 That's it for now...happy holidays and thank you for visiting this site! I appreciate all of your e-mails and I look forward to being able to update the site with more new information in 2021.
---
UPDATED 10/31/20
BONUS UPDATE 11/07/20
BOO! I won't scare you by sharing how much I've spent on old guitar magazines this past year, but I will share summaries of 8 more, including 2 very nice articles from December 1990 and 2 features on ss beat control himself in Modern Drummer, 16 years apart! Check out the red items over here...
I spent nothing at all to read an excellent interview with Thurston that also contains beautiful pictures of a few familiar guitars. Head on over to Guitar.com and enjoy! Thurston still uses three former SY instruments in his band, including the sunburst '64 Jazzmaster which is his main guitar following the theft of the black Jazzmaster, and the gold '59 Jazzmaster and Fender XII which are both used by James Sedwards. The article features another Fender XII, which Thurston plays, but I don't know if it dates back to SY. The piece is available in print in the November 2020 issue of Guitar!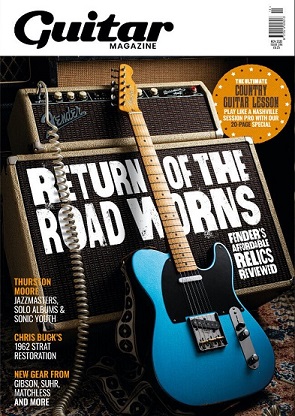 Another eBay score was a 1987 issue of RIP magazine with a feature on Made in USA (!). I'm always interested in contemporary info on the film and its soundtrack, but it wasn't particularly revealing. However, it was revealing in another way...backing up for a moment, longtime site contributor Ben Dyment had recently made me aware of Lee using the white Teisco "Hagstrom" style (which was only recently added to the site when a picture of Thurston using it in January 1986 popped up). Ben caught Lee using it in the recently torrented EVOL "tour reels" which feature a number of summer '86 shows in partial or complete form. The 06/27/86 Houston gig reveals Lee playing this guitar on "Death To Our Friends", presumably as a back-up for the red Hondo "Fame" strat copy which was his F#F#F#F#EB guitar. He used the Hondo for this song at other shows, so he may have just broken a string or something during "Starpower" at the Houston gig and needed a back-up. I suspect Thurston was using it in F#F#F#F#EB as well...Anyway, Ben sent the following screen shots: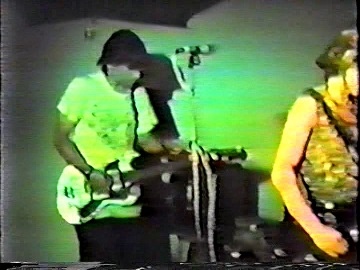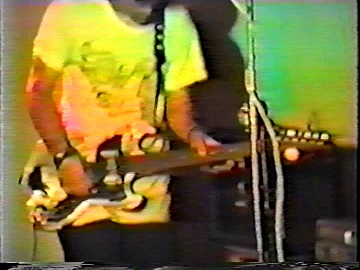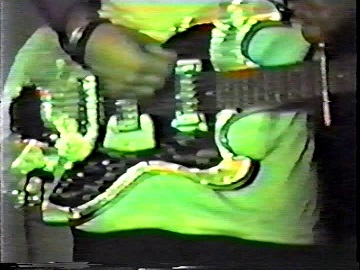 We found the..texture(?) of the guitar curious, it reflected oddly in the light. Shortly thereafter, the RIP mag arrived on my doorstep and while I wasn't treated to a personal account of being in the studio while the band recorded "Rim Thrusters", I did find something arguably better: another Monica Dee photo from my (for purposes of this site) favorite photo shoot. Here are the two previous photos, from the 05/08/10 update (a decade old but still fresh and informative!) and a third which was kind of useless and seemingly printed backwards: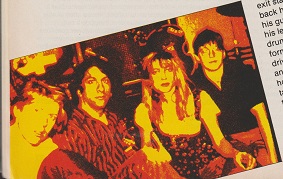 So what do I find in RIP? Not a casual reference to the elusive tuning for "Tuck n Dar", but something equally fascinating: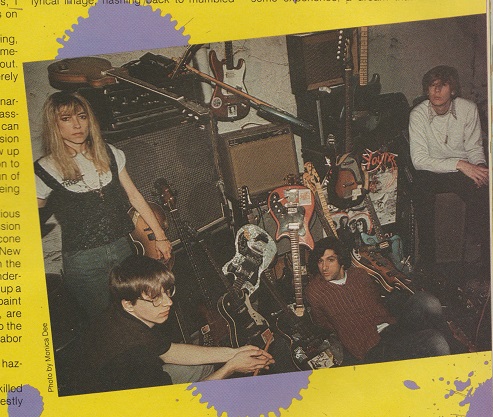 Not only do we have a better view of two instruments that were previously unidentified, it turns out that the fucking Teisco was there the entire time! And it's also covered in, uhhh...duct tape? Aluminum foil? I mean, check this pic out, you can see the sunburst finish underneath on the top wing and upper butt(?). So that leads me to believe this may very well be the same sunburst Teisco "Hagstrom" style that has always been on this site, used by Thurston at the 10/10/85 Bremen show (and presumably the rest of the tour, just elusive in photos). There too, it was in F#F#F#F#EB. I could be wrong, but it really seems like they covered this guitar in duct tape for some reason and continued using it sporadically during '86. Any other theories? (Also, I do believe it to be the guitar seen in the "Teenage Riot" video.)
The Hofner style bass was always technically visible but I could never place it, and I feel the same about the guitar directly above Kim's head. When did these ever come into play? Could this be the mysterious "335-style Gibson Epiphone guitar" that Thurston references in the newly added Guitar World December 1990 interview? I'm stumped...
What else...? Chris Summerlin wrote to point out something very interesting: Lee's infamous sunburst Mustang currently has the neck from the old black "Goo" Mustang. It's been noted that the black 'stang had been poorly reshaped, and it's not entirely clear if the headstock is from a yellow competition model, or just a competition decal on a regular headstock, which was apparently done with some sunburst models. If the neck was original to the black 'stang, perhaps it was originally a sunburst whose body received some unfortunate work? The sunburst Mustang's original headstock can be seen in the "Sugar Kane" video or this pic of Thurston.
The instruments featured in a picture that spans both inside covers of the I Dreamed Of Noise book may have been borrowed from the Volcano Suns - the bass Thurston is playing is definitely Bob Weston's, and the Fender Lead II could be theirs as well, though I'm not entirely sure what the circumstances would have been (even if Lee needed to borrow a guitar for standard tuning to do a cover like "Be Yr Dog", wouldn't Thurston just use Kim's bass?). If you're a Bob Weston expert and can pinpoint when this might have been taken, please write! Thanks to Neal M. for the tip.
At the end of 2005, Sonic Youth played a set of new tunes as a trio minus Lee. Thurston used his black Jazzmaster, typically in CGDGCD, in the new tuning of DD#A#D#GG, which 4 of the set's 5 songs were in. The final song, "Lights Out", actually is in CGDGCD, and for some reason Thurston used the MusicMan Stingray which had previously been briefly used by Lee and then was adopted by Jim as a standard tuning guitar for a couple of years. It seems like an odd one for Thurston to drag out for one gig, but what do I know...curiously, when this guitar was sold in October 2018's Reverb auction, pics revealed it had a curious tuning on the headstock: E B D F# B C# // you can see that this is visible already on the guitar when Thurston is playing it in 2005. On the underside of the guitar is another notation: EBE F#BEAC#F# // I realized that F#BEAC#F# is standard tuning up a whole step (or with a capo at 2nd fret), so it may have been something Jim wrote since he was using standard tuning more often earlier in his time with SY, probably adapting it with a capo. I still can't explain the tuning on the headstock!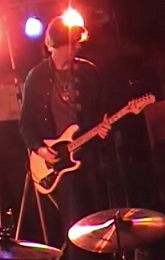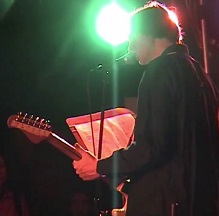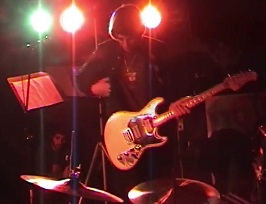 Moving on to pedals! Travis Foltz helped identify a couple of the mystery boxes in the '96 Dusseldorf pix here. Thurston seems to be using a Jax FY-6 Fuzz Master on the left of this pic. As mentioned, it seems to be gone by June, and probably replaced by the Hendrix Octave Fuzz. Lee's leftmost pedal in this pic is a Sovtek Big Muff. The swirly painted pedal seen in Lee's suitcase on the back of Washing Machine is an early version of the Prescription Electronics Experience pedal. He may have been using it as a primary distortion pedal at some point. Thanks to Travis and Gael Remy for that tip! Gael also let me know that the unknown pedal Lee has in Mike McCullough's "spy" pix from the '98 tour is likely a Pearl AD33 Analog Delay. Pearl made a Chorus in the same design, so I'm not positive which one it is...
One final stompbox puzzle: What was Jim's board after 2003? I photographed it in August 2002, and a Japanese magazine did the same in February 2003, but after that there isn't much useful information. I pored over all the videos I could find to try to get productive freeze frames, with some level of success after hours of investment. Beginning with the May 2003 PBS performance, we can see he's using the BOSS OC-2 Octave, Mu-Tron Wah/Vol, Boss GE-7 Equalizer, MXR Phase 100, Moogerfooger Analog Delay, Crowther Hot Cake, and Crowther Prunes & Custard. There's another box next to the Prunes & Custard but it could be a power source or A/B, not sure. A December 2003 video offers one nice shot of Jim's pedals, including the first instance I've noticed of a DOD pedal that I can't identify, alongside the two Crowther pedals and the Wah/Vol: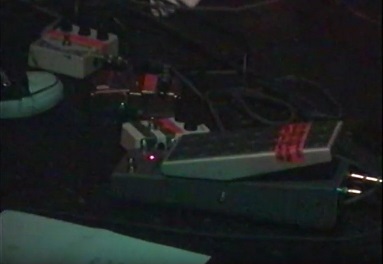 Unfortunately my efforts to get quality screencaps from 2004 were largely unsuccessful - grainy Leno and Kilborn vids offer tiny clues, but most of the best shots are gathered from 2005 pro-shot festival sets. I already mined these for the "Effects" page, but I took a second pass and really tried to find clear snaps of Jim's ever-shifting board (seriously, it's slightly different at each performance I watched from June/July 2005). Here are a few, which helped illuminate things: he was still using the Wah/Vol, the two Crowther pedals, and the Moogerfooger Analog Delay (the expression pedal seems to come and go, though). The mystery DOD pedal is still there - I know it should be easy to identify by color but I'm not sure! I do spot an Electro Harmonix Holy Grail Reverb, two of which were sold in the Reverb auction. There's also a BOSS chromatic tuner on the outskirts, and the equalizer is gone. There's also something that seems to have two footswitches, and something with a single footswitch (on either side of the Holy Grail). I'm embarassed to say how long I spent trying to get even better pictures to shed just a little more light on these mystery effects...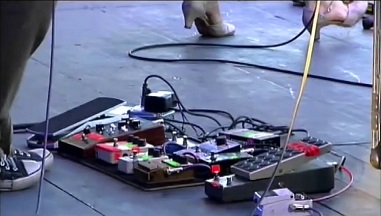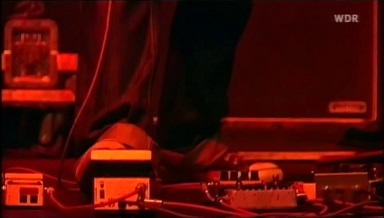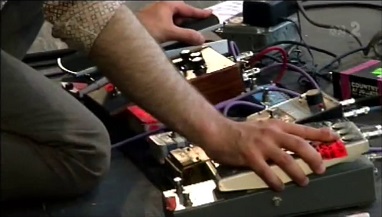 And then I had a vague memory. Jenn Benningfield and longtime sonic tour companion Patrick Suddath attended something like six dozen NURSE tour gigs, and Jenn even wrote a killer book about the whole experience, perfectly punctuated by Patrick's photos. I ran to my bookshelf and sure enough, on April 16th 2005, Patrick was kind enough to photograph everyone's pedalboards at a tiny gig in Hoboken. In addition to confirming Kim and Thurston's chains are as I'd already deduced, I spotted something different in Lee's setup - instead of the trusty Tube Factor, he's using the Paul Cochrane Tim Overdrive which was auctioned in 2018 with handwritten settings, so I figured it had seen the stage at some point. He's definitely back to the Tube Factor for those summer festivals...





Back to Jim, we can see the DOD pedal even more clearly, and have our best view yet of the blue/white 2-footswitch device that seems to move all around his board - surely someone knows what this is? The previously unidentified pedal that is now on the other side of the Holy Grail is actually the Solec Phase Shifter that was also sold in the 2018 auction. I'm sure he swapped other things in and out here and there, but this does seem to be his consistent set up from 2003 onwards - the two Crowther pedals, the Wah/Vol, the Analog Delay, the unknown DOD pedal, and later the unknown 2-footswitch and Holy Grail, plus the Tuner. If anyone can offer any more info, or better pictures, please do!! If you know of any gear magazines I haven't covered yet (I'm aware of a very unhelpfully titled magazine Bass Guitar having a 2004 feature on Kim) I would also be very interested. Thank you to everyone who wrote with info this time around, and to everyone who continues to visit this page!
BONUS UPDATE 11/07/20: Thanks to another tip from Gael Remy, I've discovered that I could have saved myself a lot of time by typing "Jim O'Rourke pedals" into Google, since the first result (even before this page!) is a very clear picture of his Nurse-era board in all its beauty, which seems to have been posted at the sy.com forum at some point. So! At least now I'm aware that the blue thing is a Zvex Ooh Wah, and Gael has suggested that the DOD pedal is a taped up or scraped off FX33 Buzz Box, a fuzz/octave based on the Melvins' Buzz Osbourne's tone. I agree with Gael's assessment based on the black/yellow peeking through in this new (to me) picture. Thanks again Gael and whoever took the picture!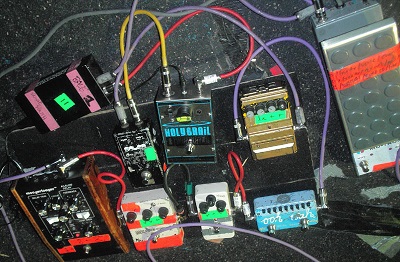 ---
UPDATED 05/22/20
Hi folks! I'm sorry for the slight delay in getting this posted, I'm back to work quicker than I'd expected but I still wanted to include everything I'd been planning for this update. Let's pencil in next week's update for Friday, shall we? And if you like this week's update, you'll probably want to see next week's too...

So what's new this time? Why does this site get all the updates? Because I've become obsessed with building the Gear Magazines section, and have tracked down another 21 entries for your enjoyment! I honestly never thought I'd find this many SY features in guitar magazines, but there's a whole line of UK mags I was never aware of (Total Guitar, Guitarist, Guitar (UK), etc) and there may be more I don't know of - if you can help, please do! I've also branched out from the English language in my pursuit of hopefully reasonably well-translated knowledge, and have a number of French, German, and Japanese publications featured. Check it all out over here!

What else? Not much, but I totally forgot to mention that Lee developed his own amp a couple of years ago! A partnership between Lee and ZT Custom Shop, the Lee Ranaldo Club is a 12" 220 watt combo with gain and reverb controls, Jasper Johns-inspired target custom painted grill (a Lee classic touch!), and a signature from Lee himself.

Thurston auctioned one of his old Big Muffs for a Cafe OTO fundraiser in April. You can see it on this page and watch a short video he made to promote the auction. It looks like it went for £1822.00?

I've added a few new pix here and there, rare live photos of Thurston playing the RD Artist and the "Reject" Strat. Also a nice clear pic of Lee's "My Friend Goo" Mustang. Thanks to Dylan Vautour for bringing those to my attention! I also added a new guitar, it's technically not theirs but they borrowed it for the show they played the day of the ol' gear theft. I'm not sure from who...Speaking of borrowed, Tom Keds let me know that Lee's mystery gtr is a Fender Lead II...

Hey, the two Roadstars swapped necks! It's clear in their respective auction photos, the blue one being sold in 2011, and the black one being sold in 2018. At some point the blue one's headstock must have broken, and they chose to take the neck from the black one and give the blue one new life (as Thurston's drumstick guitar, whatever life that is). That's why it had a rosewood fretboard in the Daydream Nation era, and the black one was only used in '87. It gathered dust until it became a Sensational Fix-ture, touring with that exhibit until its finish, and eventually being auctioned off.

I think that's all...I hope people enjoy seeing the gear magazine write-ups, I realize it would be more enjoyable to just read the damn articles but I would hate to see Sonic Youth sued for my generous negligence. If it helps, I've added all of the gear-related pictures from every single one of those articles, so what are you waiting for? Check it out! And check out the Tab Archive next week for some more good stuff...thank you as always for your patience and interest. Now I sleep.
---
UPDATED 02/22/20
I've added 10 more articles to the Gear Magazines section, and there will be more!
Check out Kim's November 2019 cover story in Premier Guitar!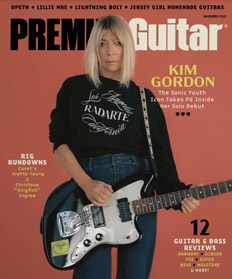 ---
UPDATED 09/19/19
Hello again! I've got one more update for y'all before we say farewell to the 2010s, and I think it's a good one. While the site has some interesting new corners to explore, let's get started with some info on early unknown guitars, as well as a bunch of new ones they picked up for their final week of live performances...
UNKNOWN GUITARS
There's a cool pic of Lee's guitars circa April '85 in the I Dreamed Of Noise book. Curiously, his Kent (traditionally in GDD# from '83 until replaced in '86) has a new, unknown tuning written on it: perhaps E B D# B F# C# ? I don't know what this could have been used for, and he was definitely using the Kent for GDD# during this March '85 gig, so it's a bit of a mystery stacked onto the existing mystery of the Hagstrom laying next to it...

In this amazing picture of SY's dressing room from June '86, all of the band's guitars are laid out on the counter, and there's a red Strat-style that I don't recognize. I suppose there's a chance it belonged to the opening band? Previously unseen photos from a January '86 gig reveal Thurston using a white Hagstrom-style, possibly a Teisco, very similar to his sunburst one. I'm not positive, but that may be the guitar leaning off to the right in the "Teenage Riot" video - while on the left is another unknown SY oddity, the wood Explorer-style previously only seen in one photograph!

Another guitar, previously only noted as being present in the background of the "Titanium Expose" video, was actually used by Thurston in the "Mote" video, it's just too grainy to tell. Some behind-the-scenes footage appears in an MTV Special and it's clear that he's playing the painted Roadstar.

Even more unknown instruments appear in I Dreamed Of Noise, Lee playing some kind of black Strat-style and Thurston playing a Rickenbacker 4005 bass. I'm not certain on the date of this photo, I'd say somewhere between '89 and early '90s. These may have been borrowed instruments, possibly for "I Wanna Be Your Dog" or a similar cover.
2011 GEAR
For their final 5 shows in South America in November 2011, the band was unable to transport all of their gear between cities, so a "B" group of gear was assembled and used for 2 shows (Lima and the final show in Sao Paulo). Most of the "B" group was taken from SY's own arsenal, but Fender also loaned them 14 brand new guitars to help make ends meet. I've studied video footage of each show and I can identify at least 7 of these borrowed Fenders, plus 1 of Kim's that I had initially assumed was a loaner but she actually still uses with Body/Head. Maybe she liked it so much she didn't want to give it back, I don't know!

Of the 37 instruments known to be used, only 3 appeared in both groups of gear. All were Thurston's: his Green Jazz, Black Jazz, and '64 Burst Jazz. Curiously, the Black Jazz was retuned to GGDDD#D# - I was unable to find footage of "What We Know" from Lima to determine if he also used it for CGDGCD, or to see what guitars Kim and Lee used. I was also unable to find footage of "Stereo Sanctity" from Lima to see what guitar Lee was using for GDD#. If you have footage of either "What We Know" or "Stereo Sanctity" from the 11/10/11 Lima gig, please let me know!

Mark used his Fender Power Jazz Bass Special for the main sets and Kim's blue Fender P-Bass for the "B" group.

The table below lists all of the songs played at these 5 gigs, and the black columns are the main set of gear used. The orange columns show the "B" group, with the loaner guitars capitalized in italics.

&nbsp

NEW SECTIONS OF THIS SITE
I've added several new sections to the site, accessible from the menu at the top of the screen. One looks at gear the band has parted ways with, mostly through last year's Reverb auction. I've also added a section devoted to the band's appearances in numerous guitar/gear magazines over the years. You can also check out the vastly informative zine that came with Thurston and Lee's signature Fenders in its entirety.

People often write asking me to list the band's effects...but they've always been there! Each member has their own page accessed by clicking their name at the top, and this is where amps and effects are listed. However, I thought I could probably document them more prominently, so I've added a whole sub-section. On this page is an overview of each member's effects based on type, a table of effects used by who and when, a table of auctioned effects that can't be tied to a particular member, and a series of photographs or video stills showing pedals that I need help identifying.

I'm hoping those sections keep you busy for a little while, and I'll leave you with an interview Thurston did recently with Fender, discussing the Jazzmaster among other topics. Another video worth watching is Lee's episode of "Show Us Your Junk!" where he demonstrates EarthQuaker Devices and gives a tour of SY's studio and archives.

Lee also shared a video slideshow of various SY guitars a few months ago, you can check out 87 frames from it here.

Thank you for continuing to support the site, I hope you enjoy all the new material and please write me with any comments or additions you might have!
---
OCTOBER 2018 - CHECK OUT THE OFFICIAL SONIC YOUTH SHOP ON REVERB, WHERE THE BAND IS SELLING NEARLY 300 PIECES OF GEAR AND MEMORABILIA, INCLUDING GUITARS, AMPS, PEDALS, AND SO MUCH MORE!!!
---
UPDATED 06/28/16
Welcome back! This isn't a major update (check out the Song Database or Discography if you're looking to get lost for a while...) but here's a handful of cool things I've been meaning to share for a while. I probably should have updated four years ago, when August 2012 saw the recovery of two more guitars stolen in '99. Unfortunately, there was a twist...read more!

2012 also saw the release of SY's archival "Smart Bar" live 1985 release. One of my favorite parts of the album was its artwork - stunning live shots taken from 2 gigs in August '85. These pics are rich with detail of the band's gear and devices. Even more from the series were published online. Photo/video from this era is fairly rare, mostly limited to the Stache's and Brighton Beach sets. What jumped out at me when I first saw the front cover was the back of a sunburst guitar next to Kim's legs. There's a tuning written there, and you can barely make it out - GADDCC?? Not sure...nor am I 100% sure which guitar that is, though my best guess is Thurston's Teisco ET-220, seen in the Bremen 10/10/85 video. It's his F#F#F#F#EB guitar, and unfortunately it's hard to make out in every picture. For example, in this picture I think he's playing the Teisco - note the wood Jag, blue Jazz, and Harmony Stratotone...Hey, what? Yeah, I fucked up! Going way back, when I first checked my grainy 8th generation tape of the Stache's 08/01/85 gig for gear details, I mistakenly thought the guitar Thurston used for "The Burning Spear" was the plain ol' Drifter. But no! It's the much debated "fake Drifter" from the Put Blood in the Music documentary, and I actually had no idea it had ever been used live, yet alone years earlier! Its sole purpose seems to have been "drumstick guitar". Also, I wasn't previously able to identify the guitar Lee used on that same "Burning Spear" - with a brighter, clearer copy I'm able to see it's the Kimberly, its first known usage and only time it wasn't used for "Shadow of a Doubt"! (Okay, there was that Plato's Cave thing...and possibly Made in USA? Hey, did you get SPINHEAD SESSIONS yet???)

I'm haunted by another guitar from the '85 era. I'd previously added the Hagstrom Viking based on this picture of Lee and a bunch of guitars, from the spring '85 European tour. I couldn't imagine what it was used for - "Halloween"? - "Satan is Boring"? - and then I stumbled across a picture of Lee actually playing the damn thing! Undated - but Kim is singing. Hmm. And wait...there's a screwdriver at the 9th fret? So, Kim is singing...there's a screwdriver..."Flower"? Possibly this was a spare GDD#, a back-up for the Kent? Could it be anything else?

I'm curious if anybody can identify the black effects box seen in these pictures. I wasn't able to find anything with an 8-knob configuration that matched what I thought Lee would be using in '86, so I'd appreciate any help! The main picture was taken July 86 in Columbus and the insets were taken December 5th 1986 for Mike Kelley's "Plato's Cave.." performance, and may be the first time I've seen the BOSS Compression Sustainer and Crybaby(?) wah.

Moving on to 1987 effects, I tried to identify the effects seen in that amazing Pukkelpop '87 footage. Kim is definitely using an Aria MP-5 Metal Pedal and a Crybaby wah in this picture. Lee's are a bit trickier:

a BOSS HM-2 Heavy Metal seems certain (replaced by a BOSS DS-1 later in the year?)
(possibly) an Ibanez CS9 Stereo Chorus (this is his "watery effect", and color wise, the CS9 seems possible - but it's hard to tell how many knobs there are)
a BOSS CS-2 Compression Sustainer
a Dunlop Crybaby wah
(possibly) a Pearl AD-08 Analog Delay

This picture from 10/22/87 @ the Cat Club in NYC reveals something interesting - Lee playing Thurston's black Ibanez Roadstar, which he'd been using for F#F#F#F#EB until that point. Lee's F#F#F#F#EB guitar ends up in Thurston's hands in 1988, so it's possible they just swapped towards the end of the Sister tour.

I never had a clear picture of the band's gear during the Daydream Nation era. When I first researched this site, the only full show available was a grainy video from 3/89, and a few other TV things that offered clues. Since then, a decent amount of '88/'89 photo/video documentation has surfaced and helped put some of the puzzle pieces together.

The deluxe edition of the album confirming the filming date of the "Silver Rocket" video (and therefore most of the Put Blood in the Music documentary) as August '88 was a good starting point. I discussed this at length in a previous update, with video captures from that documentary. With more '88 media available, I have a better idea of what they likely used on the album, which was recorded in July/August. All theory, of course, but my guesses:

TEEN AGE RIOT - Sunburst Mustang (T) / Tele Deluxe (L)
SILVER ROCKET - Quest (T) / Hondo Strat copy (L)
THE SPRAWL - Blue Jazz (T) / Tele Deluxe (L)
CROSS THE BREEZE - Blue Jazz (T) / Sunburst Mustang (L)
ERIC'S TRIP - Drifter (T) / Red Mustang? (L)
TOTAL TRASH - White Mustang (T) / Tele Deluxe? (L)
HEY JONI - Sunburst Mustang (T) / Red Mustang? (L)
CANDLE - Quest (T) / Hondo Strat copy (L)
RAIN KING - Ibanez Roadstar II (T) / Red Mustang?? (L)
KISSABILITY - Quest (T) / Red Mustang? (L)
THE WONDER - White Mustang (T) / Harmony Les Paul (L)
HYPERSTATION - White Mustang (T) / Harmony Les Paul (L)
ELIMINATOR JR - White Mustang (T) / Ovation Viper (L)

Here's my rationale:

Thurston is clearly using the sunburst Mustang for GABDEG in the November '88 Los Angeles pictures. It's seen in the documentary, but not before (that I'm aware of). Lee uses the Tele Deluxe for all known footage of GDG songs during this era, replacing the "Beauty Lies" tuning. Thurston uses the Quest for "Silver Rocket" on 11/03/88 in Toronto, early in the tour. This was upgraded to a new red Jazzmaster by the time of the LA gigs later in the month. For the "Silver Rocket" video filmed in August, he used the white Mustang, which was normally in GDD#. Of course, he could have retuned any guitar and used it for any song in the studio, but I like to think that the new tunings are inspired by certain guitars (but the white 'stang still looked cooler than the Quest for the video shoot, I guess?). Lee's Fernandes Strat isn't seen in the documentary, and he uses the Hondo "Fame" Strat copy for the "Silver Rocket" video, so I'm leaning towards that being the AEA guitar on the album, replaced by the new Fernandes before the North American tour.

The only hesitation I have is this photo which I can't date - it looks like they're playing "Silver Rocket" but Thurston is using the sunburst Mustang and not the Quest. If this pic is truly from CBGB (some captions suggest 1986! No way!) it may be the December 11 1988 closer of the tour, and the tunings may have shifted by then. Alternately, it could be from a June '88 show, which throws a wrench in my theories.

The Blue Jazzmaster is seen in October '88 for CCEBGD, and it seems likely that this was used on the album. Likewise, Lee's sunburst Mustang seems to have been designed for "'Cross the Breeze" - it was even used when the song was resurrected for the complete performances of the album in 2007. Of course, the Drifter was also designed for "Eric's Trip", and the red Mustang seems likely based on the documentary footage and the 11/26/88 Austin video. "Total Trash" was a rarity even back then, and while I assume Thurston would have used the white Mustang, which was his GDD# guitar from late '87 until '89, and it's likely Lee used his Tele Deluxe, there could be another GDG guitar...(read on!)

Thurston can be seen using the black and white Ibanez Roadstar for "Rain King" in the documentary. Lee uses his Tele Deluxe for the same song, but no GDG song is played in the 3-song set so it's likely retuned. The red Mustang is there, probably used for "Kissability" though only Kim is shown during that song. Lee is seen using the Harmony Les Paul for GGC#DGG in footage from 11/03/88 Toronto and onwards. While he uses the Univox Lucy for "Eliminator Jr" in both the 11/26/88 Austin and 12/11/88 Washington videos, I think he used the Ovation Viper earlier in the tour, with some footage seen (but not heard) in the Toronto clips. The Viper is seen in his arsenal at several '88 shows. In Guitar Player 1989, Lee says "When you run a slide over the Viper's pickups, it cancels out at one point so you get this weird 'wacka-wacka' sound." and that's exactly what he does on "Eliminator". My guess is he used it for the album and then replaced it with the Univox early in the tour.

As for other guitars, the sets were almost exclusively Daydream Nation but Thurston did use his blue Ibanez Roadstar for "I Love Her All The Time", with Lee presumably using his f-hole Tele. Encores of "Be Yr Dog" generally used a borrowed guitar for standard tuning. '89 saw some older songs return and some guitars change duty. I'm not aware of any footage from January/February, but March and April have some pictures and video. First seen in London, Thurston obtained a new sunburst Jazzmaster which he began using for GABDEG, and the sunburst Mustang was never seen again. Lee had a new sunburst Jaguar that he was using for EBEEAB, though the red Mustang was still around and in use. In Vilnius, Lee is using the Tele Deluxe for "Eliminator Jr", so the Univox probably didn't make it across the pond. The return of "Expressway" brought the need for EG#EG#EG# guitars - Lee chose his trusty "old wood" Jaguar and Thurston premiered a guitar that became a legend itself, the Musima Eterna. As of Amsterdam, the Eterna had switched to GABDEG, so the sunburst Jazzmaster probably became the new EG# guitar.

With "White Kross" back in the set, Thurston had another new red Jazzmaster, different from the one he was already using for ACCGG#C. This was my major mistake when I did the 2010 gear rundown, for all my obsessing over a strip of fucking duct tape I didn't realize that he had two different red Jazzmasters in the April '89 Hamburg pix! So, the one he used in October '88 (replacing the Quest, seen on the cover of Trees Outside The Academy) was only ever used in '88/'89 for ACCGG#C. The second Jazzmaster, initially used for F#GA, became one of Thurston's main guitars until its theft in 1999. In fact, he used it for "Silver Rocket" on Night Music instead of the first one. While there may be some holes or errors in conclusion (access to June '88 live pix would be stunning...), I think this is a pretty accurate assessment of the era.

Jumping ahead a decade, I was never quite able to pin down one of the guitars on the band's stolen gear list, but with new info I can confirm that the "Fender Jazzmaster, red, 140682, Squiggly pen lines on body" guitar is actually Lee's "redhead" Jazzmaster, first used on the Washing Machine tour. It's most visible on "Sugar Kane" during the 04/07/96 Germany "Easter" set. Apparently Thurston was using this guitar as a back-up for the blue Jazzmaster in F#F#F#F#EB on the '98 tour. He uses it for "Death Valley '69" in the encore of the 05/19/98 Denver show, and you can clearly see it now has squiggly pen lines all over it.

Lee's red Yamaha, which replaced the Travis Bean post-theft when they started playing F#F#F#F#EB songs again, seems to be an SG-40 model. It didn't last long before being replaced by another Travis.

In 2011, the band auctioned off some old, obscure gear to raise money for the ShelterBox Japan Earthquake relief fund. The gear included the following:

Ibanez Roadstar II - Thurston used this live during 1986 and 1988. It likely appeared on EVOL.
Epiphone Genesis - Thurston used this live for "Cross the Breeze" in 1990, possibly also on "Disappearer". Lee plays it in the "Dirty Boots" video.
A xylophone - used on "Kissability".
A glockenspiel - purchased by Steve while in Michigan working on early Wylde Rattz demos with Ron Asheton
A custom made passive mixer - built on tour by Dave Rat out of a microphone case for Kim to use on stage in the early 90s. Rat said "I made it out of parts from my workbox and a mic case. Its a 4 in 1 out passive mixer. Super simple and yet it sure made it easy to get the 8 track player and toys in the mix. Ha! Since it is passive, the frequency response is like 0hz to 100k flat! I also remember modifying the 8-track, toys and TV and putting guitar jacks on them so they could be plugged in rather than mic'ed. Rock on!"
AceTone Rhythm Ace drum machine - "a Sonic Youth studio staple for years"
Moog Rogue synth - used by Lee on NYC Ghosts & Flowers and the tour, perhaps for "Lightnin"?
some hardshell cases

In October 2013, the Rajah Zeetar seen in the "Starpower" artwork was also auctioned on eBay.

Throughout the site I've updated gear usage to be current through the end of 2011. New pictures here and there, too. Also, at long last, I've added some more set lists to the "interactive sets" feature. That's pretty much it for now, but there will be more detailed gear discussion coming soon. Big thanks to the following, who've been waiting years for me to add their fantastic observations to the site: John Southwood, Ben, Mat & Maxime Lepot, Ryan Hahn and more I'm certainly forgetting. Of all the sites, this is the one that I most enjoy communicating back and forth with readers, especially with new info on the table. Please keep writing and helping with those finer details!
---
UPDATED 10/10/10
Good evening and hi everybody! If you haven't been here in a while, please see the 05/08/10 update below and start from there, then move on to today's, which is more of a bullet point supplementary add-on with a few things I've learned since the last update went up. If you've already checked out the last update, read on...
UPDATED 05/08/10
Hi everybody! Well, it's been about 9 months since I posted "The Eternal Tour Equipment Exposé", and to be honest, I'm surprised to have received virtually no comments on it whatsoever. I might be wrong, but I don't think many bands out there openly allow their gear to be meticulously photographed and shared online, particularly a band with such unique and exclusive instruments, so I always expect more of a reaction when I get the privilege of sharing such detailed pictures with you. Truth be known, I'm probably the biggest fan of this website, along with a handful of people who actually do e-mail me (and oh, how I appreciate their feedback!). So, fortunately for that handful, I don't let the silence discourage me, and instead I reconsider my approach. Perhaps rather than lifesized, clear images showcasing every angle of the band's current gear arsenal, people are more interested in grainy, indistinct video captures of the equipment the band used during the first decade or so of their existance? Maybe last year's update featured too many eye-pleasing photographs and just didn't contain enough longwinded and rambling text? If that's the case, this year's update is sure to captivate, fascinate, and educate. Please, read on...

(just in case you haven't visited in a while and are legitimately curious to see last year's update, i've left it intact below, though all of this information is now incorporated into the individual guitar pages, some of it updated with new details, so please explore the site after reading the newest update!)
---