STOLEN GEAR
VIEW ALL STOLEN GUITARS
UPDATE JUNE 2016 -- TWO RECOVERED, ONE LOST...
I'll admit it: taking four years to add this is downright bad webmastering, and I'm sorry. So...yeah, August 2012 was particularly noteworthy in that two stolen guitars were retrieved from two separate sources. One source, the Offset Guitars Forum, was already responsible for locating Lee's Competition Mustang a few years earlier. In August, someone bumped an existing thread about a mysterious '59 burgundy mist Jazzmaster when they noticed that its serial number matched the one listed on this website. Simultaneously, an eBay auction for a red Jazzmaster matched the serial number for Thurston's white Jazzmaster, which made it the first of Thurston's guitars to be recovered. Both were acquired by the band, here's a pic of their happy return: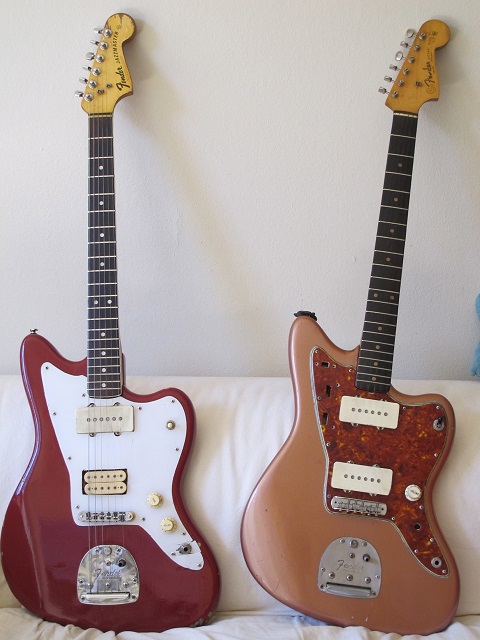 Sadly, just four months later, while Thurston was on tour with his post-SY band Chelsea Light Moving, his '66 black Jazzmaster was stolen. To quote Thurston: "We brought our bags into the Best Western 501 North 22nd Street Philadelphia, PA and cymbal bags and two fender jazzmasters in hardcases and set them beside the couch in the bar/lounge which we sat on to watch the hurricane Sandy benefit event. At some point the TV went out and we went to the bar to deal with it and while there someone snatched one of the gtrs - the black one w/ all the stickers. Their was only like 6 people around besides us, it was after midnight."
This guitar was initially purchased as a replacement after the July '99 gear theft and served as Thurston's primary C tuning guitar until its disappearance.
UPDATE OCTOBER 2005 -- 2 MORE GUITARS RECOVERED! DETAILS HERE...
While on a brief west coast tour in July 1999, a Ryder truck containing all of the band's touring equipment was stolen in Orange County, California. Sonic Youth had just played a show in Berkeley on July 2nd, and were scheduled to perform in Irvine on the 4th. The theft occurred overnight between 1am and 7:15am on the morning of the 4th, outside of a Ramada Inn in Orange County (101 State College Dr). The truck was found, completely empty, a few days later, and none of the gear has ever been recovered. (UPDATE 3/27/02: One guitar has indeed been recovered!) SY did, however, borrow or purchase new equipment to fulfill the remaining dates of the tour, in Irvine, Austin, and Santa Fe.

The bulk of the gear had been in the band's collection for years, and was uniquely modified and irreplaceable. Following the theft, SY were forced to dig old guitars out of the studio and approach their songwriting from a fresh standpoint -- this exercise produced the "nyc ghosts & flowers" LP, which was being performed in its entirety by the end of August! They stocked up on new guitars for the subsequent tour and have accepted the incident as an unfortunate, disappointing event that opened some interesting new musical doors in the long run.

You can view a full list of the stolen gear on www.sonicyouth.com -- I've compiled a special list of the stolen guitars, with photographs, that can be viewed here.
STOLEN AMPLIFIERS
Fender 2X12 speaker box
Fender Tonemaster guitar amp (serial # 3136)
Fender 4X12 Tonemaster cabinet (serial # LO436025)
Fender Concert amp (serial # A00290) red/blue/yellow target on grille
Peavey Roadmaster (serial # 3A-01673927)
Peavey Roadmaster (serial # 4A1798945)
Marshall 4X12 slant cabinet (serial # A13762) Mid 60's Cab. Pre Rolla speakers
Mesa Boogie 400+ Bass amp (serial # B2589)
Mesa Boogie 1X18 cabinet (serial # SY020)
Mesa Boogie 4X10 cabinet (serial # C10397)
Fender Bassman guitar head (serial # 22111)
Fender Bassman guitar head (serial # A12534)
STOLEN EFFECTS PEDALS
Sovtek Big Muff distortion pedal (2 in total)
ProCo Turbo Rat distortion (3 in total)
MXR Phase 90 (2 in total)
MXR Blue Box (2 in total)
Dunlop Jimi Hendrix Octave Fuzz (3 in total)
Mu-tron Wah/Vol (serial # 5806)
MOOG Moogerfooger Ring Modulator (serial # 608)
Korg EXP2 expression pedal
DOD PDS 1002 2-second delay (FX994837)
DOD PDS 1002 2-second delay (FX676315)
Maestro Ring Modulator RM1B (AE91424)
Maestro Ring Modulator RM1B
Hughes & Kettner Tube Factor (serial # 244117)
Hughes & Kettner Tube Rotosphere (serial # 229974)
Ibanez AD80 Analog delay (serial # 121817) permanent 18v power supply
Ibanez AD80 Analog delay (serial # 111519) permanent 18v power supply
Mu-tron Bi-Phase effect unit (serial # 1321) in wedge-shaped suitcase w/pedal
Mu-tron Expression pedal (serial # 1197) in suitcase w/above
Electro Harmonix Hot Tubes
Electro Harmonix Micro Synth Reissue
Dyna Soar homemade distortion pedal

for all other gear (drums/tools/cases) + merchandise, see link below.
ADDITIONAL INFO
view complete stolen gear/merchandise list @ sonicyouth.com
view Lee's original post to alt.music.sonic-youth
Return to main Sonic Gear page.