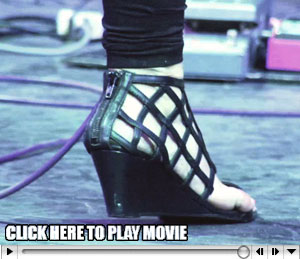 I'm supposed to edit some live footage I've recorded of Sonic Youth as content for sonicyouth.com and am interpreting the task relatively freely.
I WOULD MAKE THE DANCES. JOHN WOULD WRITE THE MUSIC. is comprised of treated footage from SY's 2010 Prospect Park show in NYC. I've pulled every clip documenting the musicians' feet (mostly re-zoomed and therefore, degraded, footage) to choreograph the sort of dance discussed in the overdubbed dialogue. I imagined the physical movement inherent to live rock performance as a pure, contemporary extension of the classical Indian Sangita discussed by John Cage–Sangitas being visualizations of melody as people.
The attached dialogue was captured from a streamed-special on Merce Cunningham that aired around the time of his passing. A Minneapolis reference suggests it might be from the Walker Art Center, but I'm uncertain. This segment of audio features Merce and John Cage in conversation about motion, sound and chance versus correlative approaches to meshing them.