TRACK LIST:
NOTES
Pioneer 12" Promotional Laser Disc from the June '95 "New Music Review" in San Francisco. These were supplied to music TV networks and various others to introduce and promote new videos being released each month. A promo for "Screaming Fields Of Sonic Love" is included on this edition.

RELEASE INFO

VIDEO
RELEASE DATE

ORIGIN

LABEL

CATALOG #

06/95

US

Pioneer

20-439

NOTES: promotional laser disc.
INFO NEEDED FOR THIS RELEASE
Please write me w/ anything that's missing!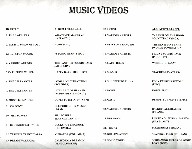 cover/back