TRACK LIST:
NOTES
Space Ghost VCD entitled "The Dark Side of the Ghost Planet Rock 'n' Roll Cartoon Laser-Light Show Extravaganza". Supposedly this is a collection of rare footage shown at planetariums through the United States in addition to 3 "classic" Space Ghost episodes. Why's it here? Apparently it features Sonic Youth somewhere in the "super-spectacular rock 'n' roll laser-light show of the century"... Anybody have specific details on this? Is it even remotely official?

RELEASE INFO

VIDEO
RELEASE DATE

ORIGIN

LABEL

CATALOG #

?

US

?

?

NOTES: VCD - full-screen mpeg w/ stereo sound.
INFO NEEDED FOR THIS RELEASE
Need details!
Please write me w/ anything that's missing!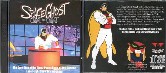 cover/back