TRACK LIST:
NOTES
Compilation of footage from the 1996 and 1997 Tibetan Freedom Concerts, featuring a clip of SY performing "Bull in the Heather" from the June 16th, 1996 show in San Francisco. There's also a brief clip of Thurston and Kim talking w/ Yoko Ono. Companion release w/ "Tibetan Freedom Concert" compilation.
More info.
RELEASE INFO
VIDEO
RELEASE DATE

ORIGIN

LABEL

CATALOG #

1998

US

MVP Home Entertainment

MVP823

NOTES: VHS video. distributed by the shooting gallery.
INFO NEEDED FOR THIS RELEASE
Please write me w/ anything that's missing!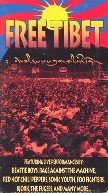 cover