TRACK LIST:
1.
JAY REATARD - "Hang Them All"
--
2.
SONIC YOUTH - "No Garage"
3:48
NOTES
This was a special split 7" designed for the International Record Store Day in April 2009. It was limited to 2500 copies and SY's contribution is an early instrumental demo of "Anti-Orgasm", which ends in a locked groove at the 'noise' section.
SY are credited as "Sonik-Youth" on this release.

RELEASE INFO

VINYL
RELEASE DATE

ORIGIN

LABEL

CATALOG #

04/18/09

US

Matador

OLE 864-7

NOTES: limited to 2500 copies
INFO NEEDED FOR THIS RELEASE
Please write me w/ anything that's missing!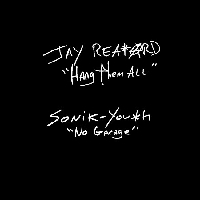 cover