TRACK LIST:
| | | |
| --- | --- | --- |
| 1. | Silver Panties | 4:27 |
| 2. | Silver Breeze | 1:19 |
| 3. | Silver Flower | 4:48 |
| 4. | Silver Wax Lips | 4:20 |
| 5. | Silver Loop | 4:25 |
| 6. | Silver Shirt | 7:17 |
| 7. | Silver Son | 1:43 |
| 8. | Silver Mirror | 2:44 |
NOTES
Thurston's liner notes explain it all:

we didn't really know jason knuth -- its possible we had met him, or had been in the same room as him, but we didn't recal... we heard about his passing on the internet -- a flurry of grievous and surprised reaction -- people were asking us if we were aware of how much he identified and championed our music -- as music director for kusf he seemingly used sy as a standard for playlisting -- indeed at his memorial his friends played 'the diamond sea' in acknowledgment of his enthusiasm towards us -- he was affectionately referred to as 'sonic knuth' ...here in nyc, so far from the sf community, we were touched and more than intrigued. we learned jason was a vibrant, well loved guy on the music scene w/ a completely genuine exhuberance towards art & music. his demeanor obviously shroued a complex inner life which led to suicide. what jason's feelings were towards his own human existence we may never know but we do know he will be missed by many as a companion. sonic youth wanted to make some gesture towards him as well as focus on suicide prevention. proceeds from this cd will help fund the san francisco suicide prevention hotline (415-781-0550). it is manufactured and distributed by revolver, a company with close and personal associations with jason.

a note on the music: silver sessions were taken from an evening when sy had to do vocal overdubs for 'a thousand leaves' -- the band upstairs was hammering out some funky metal overdrive and we couldn't "sing" properly (?!) -- we decided to fight fire with molten lava and turned every amp we owned on to 10+ and leaned as many guitars and basses we could plug in against them and they roared/HOWLED like airplanes burning over the pacific -- we could only enter the playing room with hands pressed hard against our ears and even then it was physically stunning -- we ran a sick outmoded beatbox through the p.a. and it blew out horrendous distorted pulsations. Of course we recorded the whole thing and a few months later we mixed it down into sections, ultra-processing it to a wholly other "piece" -- in a way, it's my favorite record of ours -- I hope jason digs it. --- keep on keep on keep on --- thurston/sonic youth/nyc 1998.
The phone number listed for the San Francisco Suicide Prevention Line is actually incorrect by one digit. After the initial release, a piece of paper w/ the following message was including w/ new copies of the EP:

CORRECTION:
The correct phone
number of the San
Francisco Suicide
Prevention Hotline
is 415-781-0500

RELEASE INFO

CD
RELEASE DATE

ORIGIN

LABEL

CATALOG #

07/14/98

US

Sonic Knuth Records

SKR1

NOTES: CD EP in silver cardboard sleeve.
INFO NEEDED FOR THIS RELEASE
Please write me w/ anything that's missing!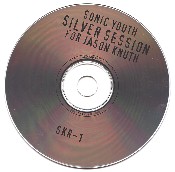 disc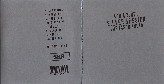 covers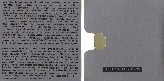 inside