TRACK LIST:
| | | |
| --- | --- | --- |
| 1. | Sugar Kane (edit) | 5:03 |
| 2. | Personality Crisis | 3:50 |
| 3. | The End Of The End Of The Ugly | 4:12 |
| 4. | Is It My Body | 2:53 |
| 5. | Tamra | 8:53 |
NOTES
EP released to coincide w/ Sonic Youth's January/February 1993 tour in Australia and New Zealand. The title is a parody of Nirvana's 1992 limited tour EP entitled "Hormoaning". I used to always think it was "Whore's Moaning" until somebody pointed out that it was "Whores Moaning", but looking at the CD and the vinyl label, it's listed with an apostrophe in both instances...
Essentially the "Sugar Kane" single with some tweaking, it features the radio edit of "Sugar Kane", "Personality Crisis" from the Sassy flexi (recorded July '90), a prototype instrumental of "Shoot" from December '91 called "The End Of The End Of The Ugly", "Is It My Body" from the Sub Pop Alice Cooper tribute (recorded April '91), and the lengthy instrumental "Tamra" from November 1991.
Disc itself features some title alterations: "Sugar Cane" "It Is My Body" "Tamara".
Cover art features a xerox of one of Kurt Cobain's doll by Kevin Kerslake. The back features a drawing by Kurt.
Apparently some vinyl copies are slightly different colours: one is aqua w/ black streaks, one is blue w/ white streaks.
A strange 12" exists containing the first SY EP on one side, and Whores Moaning on the other side. Does anyone have any further info on this?
The 2011 Record Store Day reissue included an insert with one side advertising the forthcoming 1991: The Year Punk Broke DVD, and the other advertising Nirvana's Nevermind 20th anniversary.

RELEASE INFO

VINYL
RELEASE DATE

ORIGIN

LABEL

CATALOG #

02/93

NZ/OZ

Geffen

GEF12 21783

NOTES: 12" on blue vinyl (aqua w black streaks & blue w white streaks)

04/16/11

US

Geffen

B0015412-01

NOTES: 12" on blue translucent vinyl. Record Store Day reissue
CD
RELEASE DATE

ORIGIN

LABEL

CATALOG #

02/93

NZ/OZ

Geffen

GEFDM 21783

NOTES: CD EP.
INFO NEEDED FOR THIS RELEASE
Need scan of different vinyl colour.
Please write me w/ anything that's missing!

blue vinyl 12"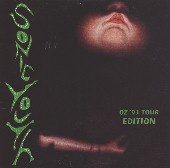 CD cover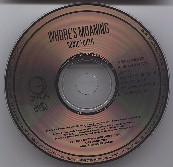 disc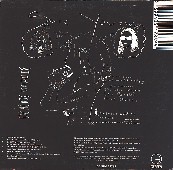 CD back


12" label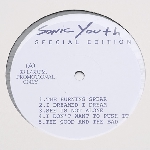 SY/WM 12" side A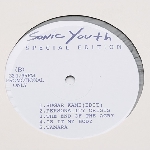 SY/WM 12" side B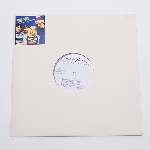 SY/WM 12" sleeve w/ sticker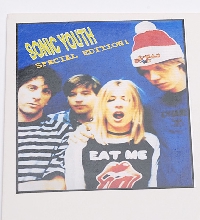 SY/WM 12" sticker