TRACK LIST:
1.
Making The Nature Scene
--
2.
I Killed Christgau With My Big Fuckin' Dick [Kill Yr Idols]
NOTES
Both songs recorded live October 30th, 1983 @ The Loft in Berlin, Germany. Limited to 1246 copies. Cover art by Raymond Pettibon. First 10 supposedly have full colour handmade covers by Thurston.
These tracks were later collected on Rarities 2.
"I Killed Christgau With My Big Fucking Dick" is "Kill Yr Idols" retitled by Byron Coley -- Robert Christgau was a critic who gave the band some unfavourable reviews in the early years...
The text "Manufactured by Iridescence" is crossed out in silver pen on the back.
Etchings are:
Side 1: Kim Gordon rocks
Side 2: sonic life + sonic death
RELEASE INFO
VINYL
RELEASE DATE

ORIGIN

LABEL

CATALOG #

09/85

USA

Forced Exposure

FE-001

NOTES: only version, other than test pressing. ltd to 1246 copies.
INFO NEEDED FOR THIS RELEASE
Please write me w/ anything that's missing!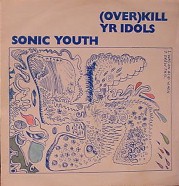 cover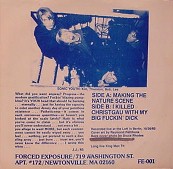 back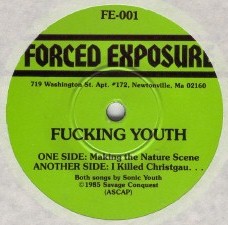 vinyl label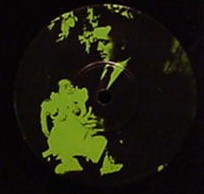 vinyl label