TRACK LIST:
artist
title
1.
Matthew Sweet
Superdeformed
2.
Buffalo Tom
For All To See
3.
Soul Asylum
Sexual Healing
4.
Urge Overkill
Take A Walk
5.
American Music Club
All Your Jeans Were Too Tight
6.
Goo Goo Dolls
Bitch
7.
Pavement
Unseen Power Of The Picket Fence
8.
Smashing Pumpkins
Glynis
9.
Bob Mould
Can't Fight It
10.
Sarah McLachlan
Hold On
--
11.
Soundgarden
Show Me
12.
Straitjacket Fits
Brittle
13.
Barbara Manning
Joed Out
14.
The Verlaines
Heavy 33
15.
Uncle Tupelo
Effigy
16.
Beastie Boys
It's The New Style
17.
The Breeders
Iris (live)
18.
Sonic Youth
Burning Spear (live)
19.
Jonathan Richman
Hot Nights
20.
Patti Smith
Memorial Tribute
21.
Nirvana
Sappy
NOTES
Originally, No Alternative was a CD and cassette release. Sonic Youth (and Jonathan Richman) only appeared on the cassette. Their song is a live version of "Burning Spear" (the same which appeared on a Dirty era 7") from January 24th, 1993 in Melbourne, Australia @ Big Day Out.
The final track, Nirvana's excellent "Sappy" (aka "Verse Chorus Verse") is not listed anywhere on the art, as on the CD version. However, there is a nod to it on the tape itself -- the last song is listed as "Uncredited/Untitled".
The album was reissued on vinyl for Record Store Day 2013, with SY's track included on side D.

RELEASE INFO

CASSETTE
RELEASE DATE

ORIGIN

LABEL

CATALOG #

11/09/93

US

Red Hot/Arista

18737-4

NOTES: SY do not appear on CD "no alternative" releases.
VINYL
RELEASE DATE

ORIGIN

LABEL

CATALOG #

04/20/13

US

Legacy/Arista

88765482911

NOTES: 2xLP reissue with alternate "girl" cover art
INFO NEEDED FOR THIS RELEASE
Please write me w/ anything that's missing!


fold-out 1


fold-out 2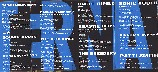 fold-out 3


fold-out 4


fold-out 5


tape side 1


tape side 2