TRACK LIST:
1.
Russolo Brothers
Corale
2.
Walter Ruttman
Wochende
3.
Pierre Schaeffer
Cinq Etudes de Bruits: Etude Violette
4.
Henri Pousseur
Scambi
5.
Gordon Mumma
Dresden Interleaf 13 February 1945
6.
Angus MacLise/Tony Conrad/John Cale
Trance #2
7.
Philip Jeck/Yoshihide Otomo/Martin Tetreault
Untitled #1
8.
Survival Research Libraries
October 24, 1992 Graz, Austria
9.
Einsturzende Neubauten
Ragout: Küchen Rezpt Von Einsturzende Neubauten
10.
Konrad Boehmer
Aspekt
1.
Nam June Paik
Hommage À John Cage
2.
John Cage
Rozart Mix
3.
Sonic Youth
Audience
4.
Edgard Varese
Poeme Electronique
5.
Iannis Xenakis
Concret Ph
6.
DJ Spooky
FTP > Bundle/Conduit 23
7.
Pauline Oliveros
Little Noise in the System (Moog System)
8.
Ryoji Ikeda
One Minute
NOTES
2 CD compilation featuring an exclusive SY track entitled "Audience" -- a recording of the crowd's "applause" at the 10/30/83 Berlin, Germany SY show modulated in the studio 2001 to become its own piece.
Track notes:
Audience (1983) 6:00
This is a previously unreleased piece found for us in Sonic Youth's archives by Lee Ranaldo. Audience is typically Cagian - in the sense that, at the end of a robustly noise-oriented concert (this was the period of Confusion is Sex and Kill yr Idols), the microphones were turned towards the audience and the musiciians modified the sound that came back to them. This piece, characteristic of the spontaneous sound experimentations of the early 1990s, was recorded in Berlin at the Loft in 1983 (and re-created at Echo Canyon, New York, in 2001).

RELEASE INFO

CD
RELEASE DATE

ORIGIN

LABEL

CATALOG #

05/02

Belgium

Sub Rosa

SR 190

NOTES: 2xCD compilation.
INFO NEEDED FOR THIS RELEASE
Please write me w/ anything that's missing!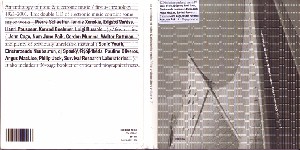 covers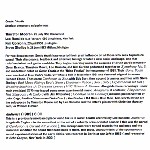 SY track info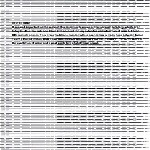 liner note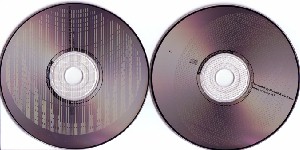 discs