TRACK LIST:
1.
Teen Age Riot
--
2.
Starpower
NOTES
7" bootleg w/ 2 live songs. "Teenage Riot" recorded April 2nd, 1989 in Hamburg, Germany @ Markthalle. "Starpower" recorded November 9th, 1986 in Baton Rouge, LA @ Knights of Columbus.
Supposedly supposed to be called "Wattpower" -- Mike Watt plays bass on "Starpower".
These tracks were later collected on Rarities 2.

RELEASE INFO

VINYL
RELEASE DATE

ORIGIN

LABEL

CATALOG #

1989

Germany?

Silver

MARS66

NOTES: 7" bootleg w/ live songs.
INFO NEEDED FOR THIS RELEASE
Please write me w/ anything that's missing!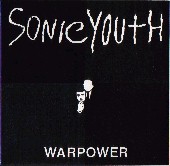 cover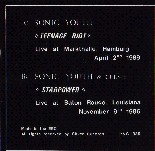 back