TRACK LIST:
| | |
| --- | --- |
| 1. | Tom Violence |
| 2. | Shadow of a Doubt |
| 3. | Starpower |
| 4. | Secret Girls |
| 5. | Death To Our Friends |
| 6. | Green Light |
| 7. | Kill Yr Idols |
| 8. | Ghost Bitch |
| 9. | Expressway [cut] |
| 10. | World Looks Red |
| 11. | Confusion (indeed) |
NOTES
Recorded live April 12th, 1986 in Austin, TX @ Continental Club. This was the first gig where the bulk of EVOL was debuted. Sonic Death members received this disc free upon joining. You could also buy it thru Sonic Death for $13.50. Lee designed the artwork.
Lee's liner notes:
This was the first live show of the songs from EVOL, at the Continental Club in Austin, Texas. The next day we would sputter through a set for New Music America in Houston, outdoors like a sideshow act on some sort of weird float, our music vanishing amongst the tall ugly bldgs downtown, in broad daylight. This night, however, things felt pretty good, despite borrowed amps+ drums (thanks to Furniture) and a set of (almost) all new songs- untried, stepping off the cliff. Our future soundman Terry Pearson was part owner of the Continental at the time, and he did the house sound for this and hundreds of other gigs there. The original cassette recording was made by Austin film-maker Bill Daniels; Wharton Tiers transferred it to digital; the end music is by Steve Fitch (Summer '86) and came with the tape. -LR 91
RELEASE INFO
CD
RELEASE DATE

ORIGIN

LABEL

CATALOG #

1992

US

Sonic Death

SD13002

NOTES: free upon joining SONIC DEATH.
INFO NEEDED FOR THIS RELEASE
Please write me w/ anything that's missing!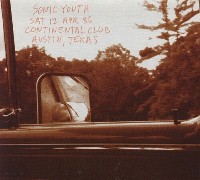 cover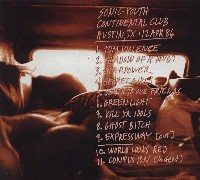 back


disc