Lollapalooza '93
In an attempt to get more 'lo-fi' indie-style bands on the Lollapalooza bill, Free Kitten and Mosquito, along with bands like Cell, Sebadoh, Unrest, Royal Trux, and Tsunami, were added to the second stage. The main stage acts included Primus, Alice in Chains, Dinosaur Jr, Fishbone, Arrested Development, Front 242, Babes in Toyland, Tool, and Rage Against the Machine.
Free Kitten played a week after SY returned from Europe, and Mosquito seemed to play the two days after SY returned (talk about cutting it close -- maybe one date is wrong?). Thurston even made a solo appearance at some shows -- setting up after Free Kitten.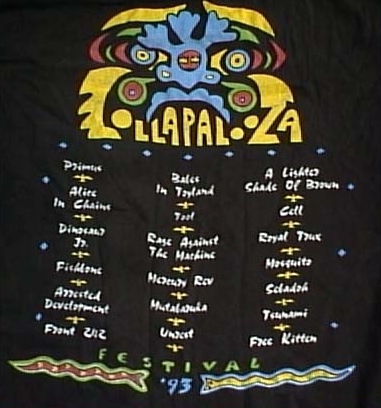 Return to the Sonic Youth Concert Chronology.