SONIC YOUTH // 1984 Tour Statistics
Main Statistics
Number of shows played: 7
Number of tour shows: 0
Number of off-tour shows: 7
Number of tours: 0
Number of Appearances in 5 Partial or Complete Set Lists:

Brave Men Run		        4
Death Valley '69	        2
Ghost Bitch		        4
Halloween			1	10/27/84 NYC
I Love Her All The Time	        4
I'm Insane		        4
Justice Is Might		4
Satan is Boring			4
Society is a Hole		4

Though not present on any tapes I'm aware of, a 1984 set list
duplicated in the "SONIC MATTERS..." book lists a potential
encore of "KILL YR IDOLS" "BROTHER JAMES" & "WHITE CROSS" (?!).



Current Release: Death Valley '69 7"


Songs from albums:

Flower/Halloween 12"	1
Death Valley '69 EP	1
Bad Moon Rising		7


Other Statistics
Unreleased at time: 7
Ghost Bitch
Halloween
I Love Her All The Time
I'm Insane
Justice is Might
Satan is Boring
Society is a Hole
Number of different songs played: 9
Non-LP songs performed: 2
Halloween -- Flower 12"

Satan is Boring -- Death Valley '69 EP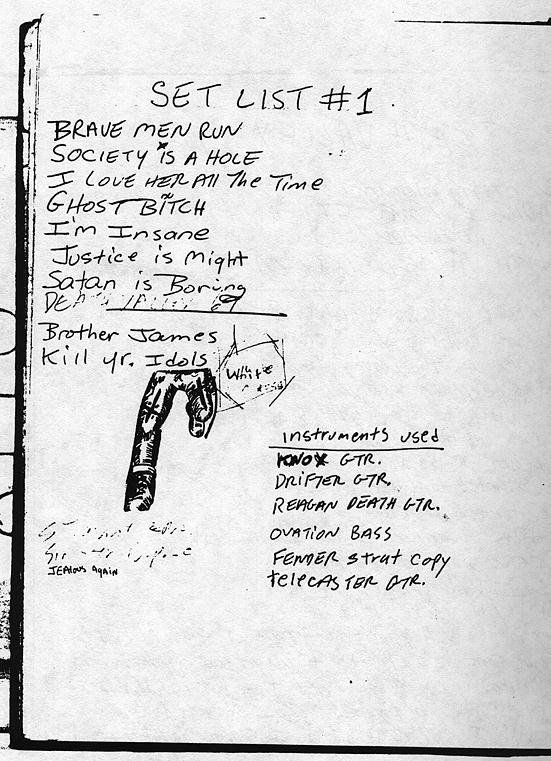 Note: The statistics above only reflect the information available on this site in the form of gig dates, set lists, and tour schedules. Since many set lists are either missing or incomplete, and not all concert dates are available, it's impossible to offer 100% accuracy, but this is as close as the site can come w/ the information available. Your help to make the site more complete would be greatly appreciated. Contact Chris Lawrence with any info you have.
---
Return to the Sonic Youth Concert Chronology.