SAVAGE BLUNDER TOUR
In November '82, Sonic Youth teamed up with the Swans for a week or so of shows, then hit the road again a month later for another jaunt. The tour was fairly eventful and definitely an experience for the two bands. Portions of the shows can be heard on the "Sonic Death" album, and "I Wanna Be Your Dog" on Confusion is Sex came from the Raleigh show.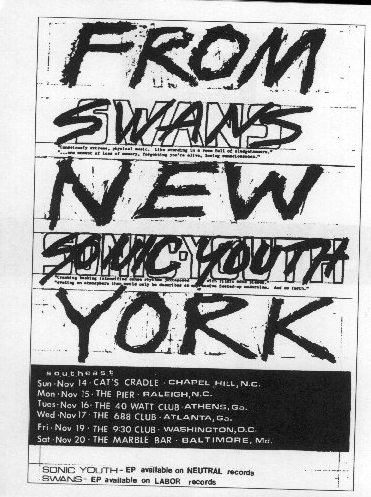 Tour Length
11 shows / 34 days
Number of Appearances in 2 Partial or Complete Set Lists:

Burning Spear			2
Confusion is Next		2
I Wanna Be Your Dog		2
Inhuman				1
Making the Nature Scene		2
Shaking Hell			2
She's in a Bad Mood		1
The World Looks Red		1



Current Release: Sonic Youth EP


Songs from albums:

Confusion is Sex	7
Sonic Youth EP		1



Other Statistics


Unreleased at time: 6

Number of different songs played: 8

Non-LP songs performed: 0

Return to the Sonic Youth Concert Chronology.