Marilyn Moore 
Tom Violence 
White Kross 
Shadow of a Doubt 
Death to our Friends 
Secret Girl 
Green Light 
Brother James 
Kill Yr idols 
Expressway 
-- 
Starpower 
The Red and the Black

Joined by fIREHOSE for Starpower & The Red and the Black.
According to JRNLS80s Thurston discovered his guitar for Expressway was stolen just before the show, so they had to borrow one from J Mascis, who was supposed to play guitar on Kill yr Idols.
QUOTES
K: "If anyone finds a Gibson Marauder guitar would you return it to the lost and found?"
L: "It's kind of yellow and wood-coloured."
T: "Six strings...Lee, do you have any guitar picks?"
L: "Thurston lost it."
T: "Alright this song is about Marilyn Monroe. Hey Terry, can you get, like, the ringy shit out of the microphone? It's [?]..it's dried up."
L: "You ready?"
T: "Yeah."
- Marilyn Moore
T: "Alright, this song is..ready..this song is about 'Tom Violence'."
- Tom Violence
T: "Thanks, this song is called 'White Kross'. 1 2 3 4!"
- White Kross
[walkman plays 'nasty' by janet jackson thru amp]
- Shadow of a Doubt
T: "This song is called 'A Friend For Life'."
- Death to our Friends
- Secret Girl
T: "This song is called 'Green Light'."
- Green Light
L: "1 2 3 4!"
- Brother James
- Kill Yr Idols
[walkman plays 'blue velvet' thru amp]
T: "I'd like to thank J from Dinosaur for lending me his guitar. Do you know he is? I think he stole my guitar. I'd like to dedicate this song to Mike and Kira for buying me a guitar strap today. This is it! J locks his guitar strap on. [sounds like a commotion in the crowd] This guy's gonna shoot me! [??] with my big brother."
K: "Do you have anything to drink in your glass?"
T: "[??]"
L: "Susanne I need some light!"
T: "Alright hey hey this song is called 'Blues for the Dudes'. Alright, Lee has [??] In answer to your question, this is the Flaming Telepaths tour, we've been touring for about 3 weeks with fIREHOSE. [??] This is the end of it. Actually there's one more gig in Amherst, go tomorrow and get directions from J from Dinosaur [?] Yes they are, man! This song is called 'Expressway'."
- Expressway
T: "Thanks a lot. Thanks for coming! Seeya!"
[encore break]
T: "Wake up! Alright, Martin. Martin Tamburovich from Slivers and Pleebs. The guy who runs New Alliance records, etc. Martin! C'mon let's go, c'mon! Fuckin' slow, man. [??] George! Hurley Davidson! Alright, this is Martin from New Alliance! This guy's fucked up! Ready dude? Alright, this song is called 'Wattpower'."
- Starpower
T: "?? One more! Mike is gonna sing one. C'mon, this is serious!"
Watt: "Thanks for everyone coming in. Thanks for the dude with the stick. I've been playing this song for half my life."
L: "That's a long time! Kira [??] alright, this next song comes out of Long Island. One of our staples."
T: "[??] C'mon Hurley!"
- The Red & The Black
L: "Goodnight!"

OTHER PERFORMERS
fIREHOSE
Frightwig

MEMORABILIA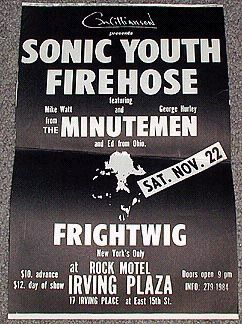 Have any information on this show? E-mail me!