Brother James 
The Wonder 
Hyperstation 
Cross the Breeze 
Kissability 
Silver Rocket 
Teenage Riot 
Hey Joni 
Eric's Trip 
The Sprawl 
Eliminator Jr 
--
Providence w/ Watt spiel
I Wanna Be Your Dog 

If there were 2 shows, this set list is for the late show.
Members of Mudhoney and Redd Kross joined on I Wanna Be Yr Dog.
Mike Watt did a spiel overtop a tape of "Providence".
QUOTES
[long tuning intro]
L: "Check 1 2..."
T: "1 2 3 4!"
- Brother James
T: "Thanks. This song is called 'The Wonder'. It's for James Elroy."
- The Wonder
- Hyperstation
- 'Cross the Breeze
- Kissability
- Silver Rocket
[tapes]
T: "I killed a cop today."
- Teenage Riot
L: "This is called 'Hey Joni'."
- Hey Joni
L: "This is called 'Eric's Trip' and it's for Mike Watt."
- Eric's Trip
L: "This is 'The Sprawl'."
- The Sprawl
- Eliminator Jr
L: "Thanks a lot!"
Mike Watt: [spiel overtop "PROVIDENCE" tape, this is approximate at best] "...had it tossed inside him, add the cost of finding him, meaning from the outside in. Figured I could marry every dictionary, find the truth that's buried, in the suit we carry. Whistle blows all lined up, we found em, I fucked the [??] Watt here..."
L: "Where's all the dudes? Providence's [???].. And we have some of our friends up here to help us. Dudes from Seattle, dudes from L.A.! We're gonna do some old Beatles songs! I mean Ramones, Ramones! Peter Frampton cover..."
?: "You're the most beautiful people I've ever seen in my life, you're really beautiful! I really mean that! You're so goddam pretty, I can't stand it! I wanna fuck all your brains out! That's already happened, what?" (not someone from SY)
[very brief subtle jam on "Down by the River"]
- I Wanna Be Yr Dog
T: "Thank you goodnight!!!"
OTHER PERFORMERS
Mudhoney
Redd Kross

MEMORABILIA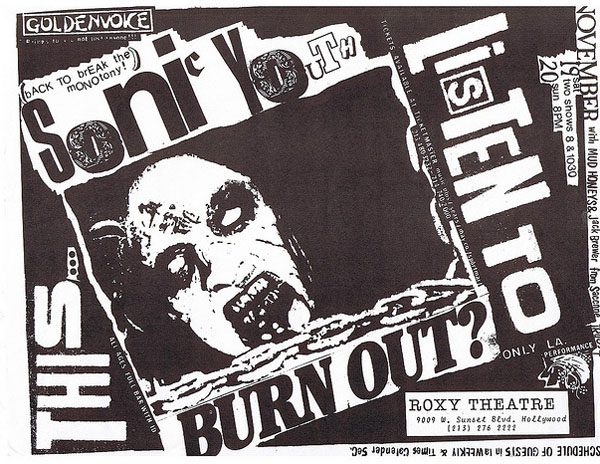 Have any information on this show? E-mail me!