Brother James 
The Wonder 
Hyperstation 
Cross the Breeze 
Kissability 
Silver Rocket 
Teenage Riot 
Hey Joni 
Eric's Trip 
The Sprawl 
Eliminator Jr. 
I Love Her All the Time 

An early and late show? (see Lee's comment before "I Love Her All The Time", though I may be hearing it wrong)
"Hey Joni" appeared on the Candle 12".
Kim joined Mudhoney onstage for "Halloween" at a show at the Roxy, probably 11/20/88.
QUOTES
T: "1 2 3 4!"
- Brother James
T: "This song is called 'The Wonder'."
- The Wonder
- Hyperstation
- 'Cross the Breeze
- Kissability
- Silver Rocket
T: "Thanks."
L: "All along the watchtower..."
T: "This song is called 'Teenage Democrat'. Am I in tune?"
K: "I mean, just think, what would Guns N Roses do?"
L: "Yo, sing the song!"
T: "Ready?"
- Teenage Riot
L: "Alright this is called 'Hey Joni', I'm gonna try and sing it."
- Hey Joni
L: "Alright, this is called 'Eric's Trip'. It's about living in a movie theatre in Texas, and sitting next to Mike Watt."
- Eric's Trip
L: "Two more."
T: "Turn up the vocal?"
K: "Uh, the PA's over there..."
T: "Turn it down?"
K: "The PA's over there, dude! [laughs] You're sitting in front of it, you won't hear anything. Oh next year [???]."
L: "Yeah this is called 'The Sprawl'. Kim sings it."
T: "And she's gonna sing it REAL LOUD!"
L: "[???]"
- The Sprawl
- Eliminator Jr
L: "Thanks a lot! [leaves and come back] Thanks a lot. Tell your friends who were at the early show that they missed it, alright? Kim's mom and pop were here so we kinda had to cool it."
- I Love Her All The Time
L: [about a minute into the song] "Look at Thurston's t-shirt!"
OTHER PERFORMERS
Mudhoney

MEMORABILIA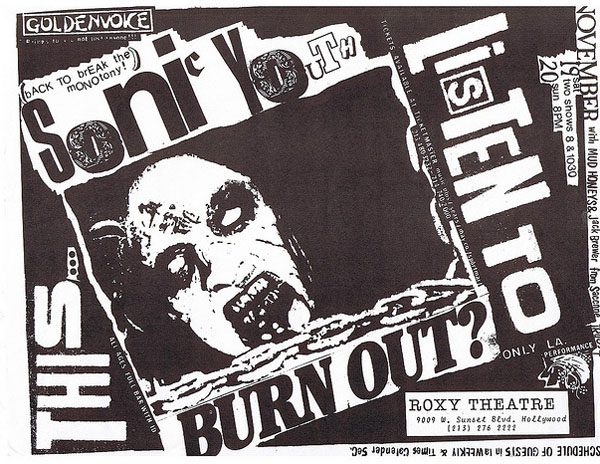 Have any information on this show? E-mail me!