Brave Men Run
Death Valley '69
I Love Her All The Time
Ghost Bitch
She's in a Bad Mood
Green Light
Brother James
Inhuman
Expressway

Huge thanks to James Finch, who unearthed a recording of the show, which contains a surprise: the only known performance of 'She's In a Bad Mood' since the Confusion tour (and the only version with Steve on drums)
Paul Burridge writes: SY played a lunchtime gig at Acklam hall in Notting Hill London. This is just around the the corner from the Rough Trade record shop and the same venue where the Fall recorded their famous 'Chaos' Tape. (also saw Einsturzende neubauten there round about same time and the trashed the place!) The SY gig nearly didn't happen: the support band 'Slaughter Joe' - fronted by a main member of the Creation records label team - had gotten into a row with 'the membranes' (another creation band) the night before as creation moved from Indie label to main player. There was definitely an atmosphere in the hall and rumours that no one would play. SY did play and were fantastic. if 'Brave men' wasn't the first song, it was certainly early. They also played 'Expressway' - remember Thurston jamming screwdrivers in the neck of his guitar. Weirdest thing after the gig was stumbling out into broad daylight! A lot of people, myself included, trooped round the corner to the RT shop to stock up on essential vinyl.
OTHER PERFORMERS
Big Stick
Slaughter Joe

QUOTES

- Intro
T: "Ready? 1 2 3 4!"
- Brave Men Run
- Death Valley '69
- I Love Her All The Time
T: "Thanks. This next song is called 'Ghost Bitch', it's about the sex life of the American Indian."
- Ghost Bitch
T: "Got your slide? We're gonna do a song, we haven't done this in about 10 years, it's called 'She's in a Bad Mood'."
- She's in a Bad Mood
- Green Light
T: "1 2 3 4!"
- Brother James

BUNCH OF DIALOG NOT ON HERE!!! (this is a public note to myself to fix it later, as i received an updated copy of the show)
T: "This song is called 'Inhuman' and sometimes it goes like this. Does anybody have a pencil or a pen? Oh wait, I got one." [some loud guy in crowd: "STOP STANDING STILL EVERYBODY!"] "Yeah, as Slaughter Joe would say, 'TURN DOWN THE FUCKING LIGHTS!'" [same guy: "And stop standing still!"] "Ready? 1 2 3 4!"
- Inhuman
T: "One more, one more and we'll go. Did they turn the PA off? Did you turn it off? Is it off?"
K: "His mic was being used more, it gets more [?? maybe not] For our next number, our next number is called 'Sean, Madonna, and Me'." [guy in crowd keeps somewhat politely but loudly requesting that everyone stop standing still, another guy retaliates not so politely...]
T: "Yeah this is a love song for Teresa of Butthole Surfers. It's called 'Expressway to Yr Skull'."
- Expressway
[into the groove tape plays]
T: "Seeya later!"

OTHER PERFORMERS
Membranes
Slaughter Joe

MEMORABILIA

Big thank you to Johnny Volcano for these great pix!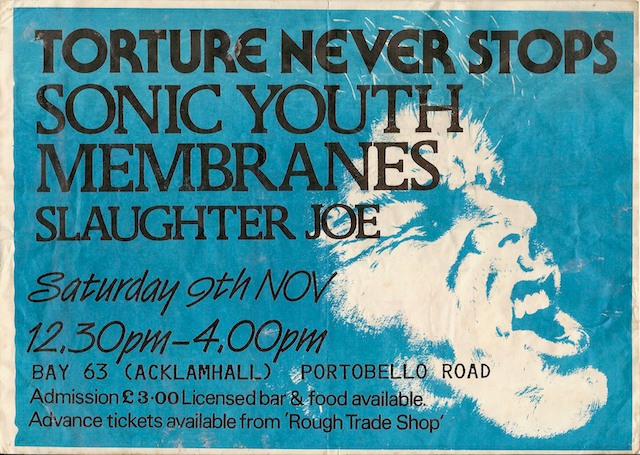 Have any information on this show? E-mail me!