Dirty Boots 
Brother James 
Mote 
Orange Rolls, Angel's Spit 
Teenage Riot 
Chapel Hill
Purr 
Mary Christ 
Kool Thing 
Expressway to Yr Skull 
--
Sugar Kane 
White Kross 

DIM STARS SET LIST

Dim Star Theme 
All My Witches Come True 
Monkey 
The Night is Coming On 
Rip Off  

This was a benefit for WFMU.
QUOTES
T: "Welcome to the benefit."
K: "Hi."
T: "K. Ready Lee? Here we go."
- Dirty Boots
K: "Thanks, I just wanna thank you all for coming, even though uuuh.. the Village Voice was a little confused as usual about what it was benefiting. What it was, you know, focusing its energy towards. As usual. But uh, I wanna thank everyone for coming."
T: "1 2 3 4!"
- Brother James
- Mote
[piano tape blares] T: "This song doesn't have a title."
- Orange Rolls, Angel's Spit
T: "Are you wearing a [???]. Alright, ready? This is 'Teenage Riot'."
- Teenage Riot
T: "Okay, got it? This is called 'Chapel Hill'."
- Chapel Hill
T: "Try this one? [laughs] Okay. Here's another one. This is a song about a dog that Kim and I used to have. You guys ready?"
- Purr
- Mary-Christ
- Kool Thing
T: "This is a song for the Bridge foundation."
- Expressway
T: "Seeya. Bye."
[band leaves and returns, 'ca plane pour moi' tape blares briefly]
T: "Uh Lee, can I use your slide? Actually it's my slide. [laughs] Uh, this song is called 'Sugar Kane'. [laughs] Steve?"
- Sugar Kane
- White Kross
T: "Peace. Seeya! There's more benefits, uh, coming up this week, I'm not quite sure where, I'm sure somebody could come up here and tell ya, but, all I know is next Friday, Chain Gang is playing. I don't know where they're playing, but you should check them out. Unfortunately I'm not gonna be here. Alright, seeya at Pier Platters. Bye!"

OTHER PERFORMERS
John Zorn
Love Child
Jad Fair
Gumball
Painkiller

MEMORABILIA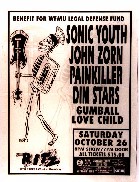 Have any information on this show? E-mail me!