I Love You Golden Blue
Stones
Unmade Bed
Paper Cup Exit
Rain on Tin


Sonic Youth returned to Neil Young's all acoustic Bridge School Benefit for the first time in 13 years after the infamous disastrous performance in 1991. This time, however, they came prepared, and delivered a flawless set of precise, tightly constructed Nurse material w/ a mind-blowing "Rain on Tin" to close the show. Lee got to play Neil's pump organ during "Golden Blue" (and Jim got to play his grand piano).
OTHER PERFORMERS
Neil Young
Paul McCartney
Tony Bennett
Eddie Vedder
Red Hot Chili Peppers
Ben Harper & the Innocent Criminals
Los Lonely Boys
Tegan and Sara

MEMORABILIA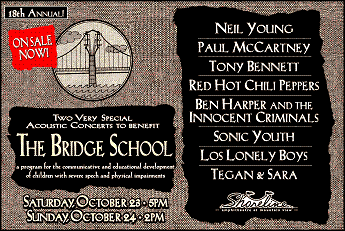 Have any information on this show? E-mail me!