Schizophrenia
Tom Violence
White Cross
Cotton Crown
Stereo Sanctity
Brother James
Pipeline
Catholic Block
Tuff Gnarl
Death Valley '69
Beauty Lies in the Eye
PCH
--
Loudmouth
I Don't Wanna Walk Around With You
Today Yr Love, Tomorrow the World
Beat on the Brat


Soren Petersen writes: I don't recall too many details. They started with an extended instrument-tuning session that morphed into a jam, before they went into the set proper. They finished up with the Ramones covers, like on *Hold That Tiger*. I also don't recollect who the openers were--Smegma and/or the Hell Cows maybe?
OTHER PERFORMERS
Hell Cows
Obituaries

MEMORABILIA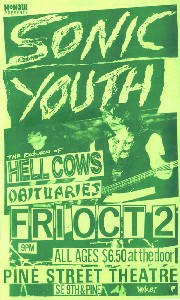 Have any information on this show? E-mail me!