Stereo Sanctity 
Mote 
Flower 
Kill Yr Idols 
Tunic
Dirty Boots
Catholic Block 
Mary Christ 
Kool Thing 
Cinderella's Big Score 
Tom Violence 
White Kross 
--
My Friend Goo 
Titanium Expose 


None.
QUOTES
T: "Hi." [Someone is shouting 'Ticket to Ride'] "A ticket to fly, you wanna hear [???]" [Steve plays the beat for SY's version of 'Ticket to Ride'] "I got your ticket right here. Okay, you ready lads? This song is called 'Stereo Sanctity'."
- Stereo Sanctity [w/ false start]
T: "Alright, thanks, this is a new song called 'Mote'."
- Mote > Flower
T: "We're on our way to London. Fuckin' shithole of the universe, baby! It's time to annihilate the trenchmouth!"
- Kill Yr Idols
T: [starts playing a tape, not sure what song? "white light til the sun goes down, then you get out a drug and you pass it around"?] "This is our Manchester. This is a song for Karen."
- Tunic
- Dirty Boots
T: "Thank you! Thanks, ladies...and gentlemen. I'm a homo-sapien. Walkin' around Liverpool, went to Uncle John's shopping mall today, pretty hot place! Pretty happenin'"
L: "St John, man."
T: "St J--[laughs] .. Uncle John, St Johns shopping mall."
L: "We know who it's named after. I'm gonna start this, this is called 'Catholic Block'."
- Catholic Block
T: "This song is called 'Mary-Christ.'"
- Mary-Christ > Kool Thing
T: "Simon Reynolds has a tattoo of the queen on his behind. Dressed up in transvestite gear. This song is called 'Cinderella's Big Score'."
- Cinderella's Big Score
T: "A song for Tom Verlaine, called 'Richard Hell'."
- Tom Violence
- White Kross > noise
T: "Thank you, see you next time!"
['scooter & jinx' tape while band is off-stage]
T: "Hey this next song is for Pat Naylor cuz she rules." [jams bass riff] "For you, baby! To all you Mississippi queens.."
- My Friend Goo
T: "Oh thank you, thank you very much, ladies...gentlemen. Who's man enough to do 'Titanium'? What do you wanna do, you wanna do 'Titanium' or 'Rocket'? We can either do a real new slick one, or a real old sick one. Huh? 'Rocket'! Let's do the old one, cuz I know more words. No let's do it. Let's do this one. Kind of in a mellow mood tonight, ladies and gentlemen, we'd like to end the evening's proceedings with a little song about love and a pillow and a blanket, and the metal called 'Titanium Expose'."
- Titanium Expose
T: "Thanks."

OTHER PERFORMERS
Teenage Fanclub

MEMORABILIA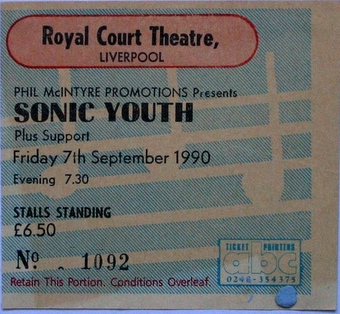 Have any information on this show? E-mail me!