Cotton Crown 
Plastic Sun 
Schizophrenia 
The Empty Page 
Rain on Tin 
Eric's Trip 
Radical Adults Lick Godhead Style 
Shadow of a Doubt 
Karenology 
100% 
Sympathy for the Strawberry 
Kool Thing 
-- 
Disconnection Notice 
White Kross 
-- 
Making the Nature Scene 

The Anxious Rats, Kim's band w/ Erase Errata, made their second appearance tonight, performing a five song set consisting of: EASY SPIRIT / ANXIOUS RATS / SCABIES / BODY BAG / EASY SPIRIT
QUOTES
- Cotton Crown
K: "This is called 'Plastic Sun'."
- Plastic Sun
T: "Hi everybody, thank you so much for showing up tonight on this beautiful Tuesday. 'I know everybody just got out of work, and you're ready to go out shining'...I forgot the rest of it, that's a rap that, uh, Jim Dandy does on the 'Raunch and Roll' record, the live Black Oak Arkansas record from 1974. Which I highly recommend. This is a song called 'Schizophrenia'."
- Schizophrenia
T: "This is a song called 'The Empty Page'."
- The Empty Page
T: "You ready? Stage left? Stage right? 'Rain on Tin'."
- Rain on Tin
L: "This is 'Eric's Trip'."
- Eric's Trip
T: "'Radical Adults Lick Godhead Style'."
- Radical Adults Lick Godhead Style
- Shadow of a Doubt [w/ noise intro]
L: "This next song is called 'Karenology'."
- Karenology
T: (a girl in the crowd is asking the band for a towel because somebody threw up on her shoes) "You need a towel? Okay, hold on, hold on. Okay, I heard you the first time. [laughs] That's something you don't see everyday. You're welcome...it's alright, somebody's just pukin' in the pit! You sure one towel's enough? You want another one? Take a bunch of em!"
K: "You can keep the towels."
T: "To the highest bidder! Hey, can we have some more towels? It's a little slick over here. You need some water? Some seltzer? East coast, we know seltzer. Lemme know if there's anything else you need..."
K: "Where's the pukee?"
T: "Sick boy or sick girl? Yeah, boy. Always a boy."
L: "I didn't think alcohol was the drug of choice here."
- 100%
K: "This is, uh, 'Sympathy for the Giant Strawberry'."
- Sympathy for the Strawberry
K: "Thanks a lot! We'd like to thank Quixotic and Erase Errata for playing for us. Oh yeah, and the Anxious Rats..."
- Kool Thing
Kim's Kool Thing Spiel: "Hey Kool Thing, come here! There's something I gotta ask you. Don't be shy... Sit down beside me! I just wanna know...what are you gonna do for me? Are you gonna liberate us girls from male, white, corporate, oppression? Fear of a female planet. Yeah that's right baby. You know what, there's a few things that I think, like, uh, poor Sister Mariah...you gotta help poor Sister Mariah...you know, first she like, feels compelled to wear almost nothing, in order to raise her record sales, and now those guys are telling her she's gotta redo her image, put on more clothes. You know, that's just not right! But...I guess, we can still be friends."
K: "Thanks a lot, thanks for coming out!"
L: "We love you San Francisco, thanks!"
[encore break]
T: "Would you like me to fellate your camera? Song entitled 'Disconnection Notice'. 1 2 3 4"
- Disconnection Notice
T: "'White Kross'."
- White Kross
K: "Goodnight, thanks for coming!"
[encore break]
K: "This song is, uh, called 'Making the Nature Scene'."
T: "I need a bass pick!"
L: (dude in crowd screaming loudly) "Is that the drunk guy?"
K: "Anyway, this song is about porn versus corn, in New York City, as it is today."
- Making the Nature Scene
K: "Thanks a lot!"

OTHER PERFORMERS
Erase Errata
Quixotic

MEMORABILIA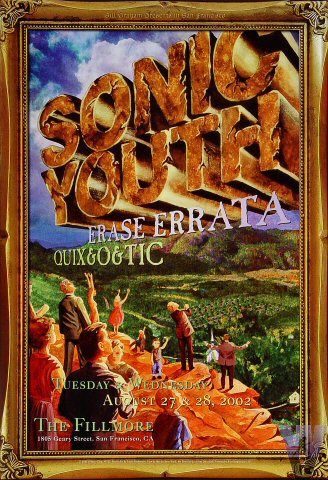 Have any information on this show? E-mail me!