Schizophrenia
White Kross
Brother James
Orange Rolls, Angel's Spit
Eric's Trip
Flower
Tunic
Dirty Boots
Chapel Hill
Mary-Christ
Kool Thing
Expressway to yr Skull
--
Teenage Riot
Sugar Kane
--
Inhuman


The live debut of "Orange Rolls, Angel's Spit".
The scene in "The Year Punk Broke" where a fan discusses how he's putting the artwork from Goo on his scooter was filmed on this day.
QUOTES
[a bunch of tape noise/warmup]
L: "Alright, I woke up!"
T: "Yo! How you guys doing tonight? Thanks for coming to see us play and shit. We're gonna start off with a song called 'Schizophrenia'."
- Schizophrenia
T: "Alright, this song is called 'White Cross'!"
- White Cross
[walkman plays james brown PSA: 'hi this is james brown, and you'd be surprised at the number of young people who said they wanted to be like james brown. but my advice to them is to first get a good education, then pursue a career. don't be a dropout. join the rest of your friends that are headed back to school.']
T: "What's your problem? To Henry? What happened to him? What happened to James Brown? This song is called 'Brother James'."
- Brother James
T: "Ah thanks! Alright, we're gonna play a new song that we wrote, we've never played it before. Not even in Cork. It doesn't have a title yet. It's off our new record that comes out in about five years. It's called 'Tangled Up In Blue 2'. Ready? K, bear with us..."
- Orange Rolls, Angel's Spit
T: "Alright, thanks. Any suggestions? This song is called 'Flower'. Oh, I'm sorry! This song is 'Eric's Trip'."
L: "Eric and then Flower."
- Eric's Trip
[walkman plays some kind of beat-oriented music]
T: "'Flower'."
- Flower
K: "This song's for the angel named Karen."
- Tunic
T: "Do you like this barricade here? Pretty hip, huh? This is for the king and the queen of the pit. This is called 'Dirty Boots'."
- Dirty Boots
T: "Thank you very much. Here's a new song we wrote about North Carolina."
- Chapel Hill
[a tape of 'Don't Fight, Feel It' by Primal Scream plays and the band jam overtop]
T: "Thanks, that's our new single. 'Never Too High' or whatever the fuck... Robert[?] Gillespie wrote that song! This is called 'Mary-Christ'."
- Mary-Christ
- Kool Thing
K: "Thanks."
[walkman plays 'Benny and the Jets' by Elton John]
T: "This song is called 'Expressway to yr Skull'."
- Expressway
[encore break]
T: "Thank you ladies and gentlemen. Thanks for coming tonight [??]. Hey, uh, can I, uh.. dude.. can I have a drag of your cigarette? This song is called 'Teenage Riot'."
- Teenage Riot
T: "It's summer time, the cotton is high. This is a new song called 'Sugar Kane'."
- Sugar Kane
T: "Alright, we're gonna do one more and then we gotta bail. Gotta get something to eat, man, I'm fuckin' starving. Americans like to eat as much as they can. Some kid today at Comet, I think it was Comet, asked me, asked us to play a song called 'Inhuman'. So the nice fuckers that we are, we'll play it. Hey you got a bass pick? Can you repeat that? It's not my imagination, I gotta go with my pack![?]"
L: "You could smash your brother's guitar [?]"
T: "Last night the police tried to throw us in jail for playing punk rock. Hey my hands are all slippery. Either that or I'm a [?]"
- Inhuman
L: "Alright Susanne."
[tapes start playing over noise]

OTHER PERFORMERS
Nirvana

MEMORABILIA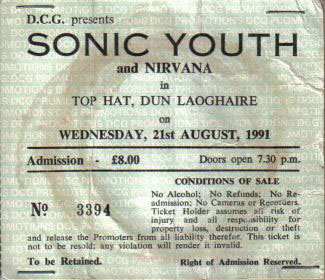 Have any information on this show? E-mail me!