World Looks Red
Incinerate
Reena
Hey Joni
Do You Believe in Rapture?
Turquoise Boy
What a Waste
100%
Rats
Bull in the Heather
Jams Run Free
Pink Steam
--
The Wonder
Hyperstation
Eliminator Jr
--
Shaking Hell

None.
OTHER PERFORMERS
Cansei de Ser Sexy (CSS)
The Sunshine Underground
Electrelane
Peter Bjorn
John and Linda Martini

MEMORABILIA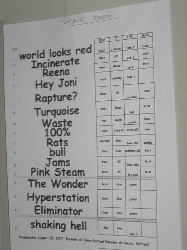 Have any information on this show? E-mail me!