Brave Men Run 
Death Valley 69 
I Love Her All the Time 
Ghost Bitch 
I'm Insane 
Kat N Hat
Brother James 
Kill Yr. Idols 
Expressway to Yr. Skull 

If the poster is to be believed, this show was moved to the Polish Veteran Hall in Detroit, MI!
OTHER PERFORMERS
Laughing Hyenas
Rites of Spring

DOCUMENTATION
Audience analog cassette source exists.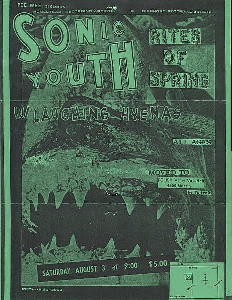 Have any information on this show? E-mail me!