The Burning Spear 
Confusion is Next 
I Don't Want to Push It 
She's in a Bad Mood 
World Looks Red 
Shaking Hell 
Making the Nature Scene 
Brother James 

Here's a quote from Guido Chiesa, and if he's referring to this gig my set list must be missing "Be Your Dog": I met Sonic Youth a few weeks after I got to New York, in the summer of 1983. Kim Gordon, serendipitously, worked in a photocopy shop on Mott Street, behind the same counter as filmmaker Sara Driver. Thurston Moore came by there too every now and then, because he was Kim Gordon's companion in life as well as in the band. The two of them knew about the Italian magazine I wrote for, because Neutral Records had received a few copies of it. In 1983, New York had only three truly undergraound bands: Micheal Gira's Swans (the successors to his Circus Mort), UT with Nina Canal, and Live Skull. In August, UT and Live Skull did a gig with Sonic Youth at the Folk City Club in Greenwich Village. I went there with high hopes, but all three groups were too confused, violent and raucous for my tastes. "Violence, " Kim told me, "is relative. If you write that we're violent, then people come to see us and expect animal sacrifices on stage. But actually, something more complicated is going on, where violence is playing an emotional role." I came out of the concert disappointed and a little flustered. It was the first time I'd heard Sonic Youth do a remake of I Wanna Be Your Dog. And it wouldn't be the last.
OTHER PERFORMERS
UT?
Live Skull?

MEMORABILIA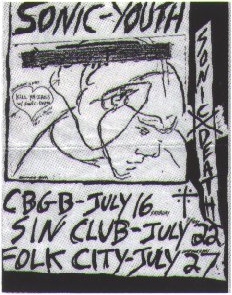 Have any information on this show? E-mail me!