She is Not Alone
Bull in the Heather
Silver Rocket
Skip Tracer
The Sprawl
World Looks Red
Jams Run Free
Hey Joni
Cross the Breeze
The Wonder
Hyperstation
Drunken Butterfly
--
Making the Nature Scene
Pink Steam
--
Schizophrenia
--
100%



10 songs were released on a live LP included with pre-order copies of The Eternal.
OTHER PERFORMERS
The Feelies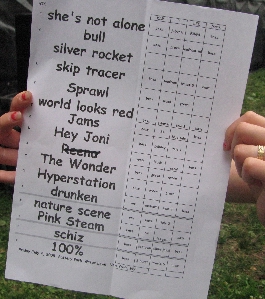 Have any information on this show? E-mail me!