She is Not Alone
No Way
Calming the Snake
Walkin Blue
Poison Arrow
Malibu Gas Station
Anti-Orgasm
Antenna
Catholic Block
What We Know
Leaky Lifeboat
Massage the History
Sacred Trickster
--
Making the Nature Scene
Silver Rocket
--
The Sprawl
'Cross the Breeze




Live debut of 'Walkin Blue'.
OTHER PERFORMERS
?

MEMORABILIA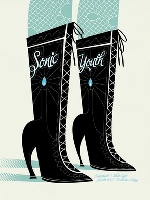 Have any information on this show? E-mail me!