Peace Attack
Bull in the Heather
The Empty Page
Rain on Tin
Eric's Trip
Plastic Sun
Disconnection Notice
Karenology
Shadow of a Doubt
Mariah Carey & the Arthur Doyle Hand Cream
Catholic Block
Sympathy For the Strawberry
--
Expressway To Yr Skull


None.
OTHER PERFORMERS
Wilco

MEMORABILIA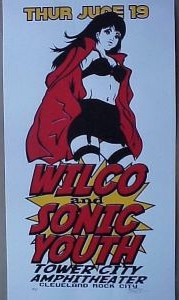 Have any information on this show? E-mail me!