Burning Spear
Confusion is Next
World Looks Red
She's in a Bad Mood
Shaking Hell
Inhuman
I Wanna Be Yr Dog

[incomplete/inaccurate?]

This is a new date using some detective work based on an image in the 'Sensational Fix' book, a photo in the 'Goodbye 20th Century' book, and passages from 'Sonic Death'. It's now apparent to me that a large portion of side 1 of 'Sonic Death' is taken from this radio show, which explains the lack of audience (even in those days!), and the French dialog from the radio commentator revealing that the band will be playing at the Centre de Loisirs "tomorrow night" (June 18th).
I assembled this set list using the songs played from 20:26 - 33:39 on side 1 of 'Sonic Death', so it's not necessarily complete, but I hope I'm correct that all these songs are from the radio show.
It should be noted that an early write-up in the Sonic Death zine discussing the forthcoming release of 'Live in Venlo' suggests the material will be taken from shows in Lausanne, Geneva and Venlo -- likely referring to this radio show and the Lausanne/Geneva concerts that bookended it (as well as the actual Venlo show that, as far as I can tell, was used in its entirety for the finished product, appropriately enough given the name).
OTHER PERFORMERS
unknown...

MEMORABILIA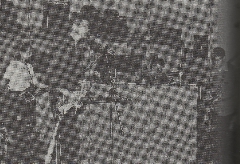 Have any information on this show? E-mail me!