Marilyn Moore 
World Looks Red (instrumental) 
Shadow of a Doubt 
Starpower 
Death to Our Friends 
Tom Violence 
White Kross 
Secret Girl 
Green Light 
Brother James 
Expressway 

Thurston's tour diary lists this show as having happened on the 17th, but Greg Fasolino writes: The show you have listed as 6-17-1986 at CBGB actually DID take place on June 13, 1986. Thurston's diary is in error! I write down every show I've attended (since the 1970s) and have this one confirmed in my 1986 planner diary. I believe Gone may have played *after* Sonic Youth, but they were not the openers. I attended the show and saw two bands open for SY, the first being Big Stick, the second being Dinosaur (before they changed the name to Dinosaur Jr).
Openers may have been Dinosaur, Cafe Scum, and Phantom Tollbooth per pre-show news blurb?
OTHER PERFORMERS
Gone
Big Stick
Dinosaur

MEMORABILIA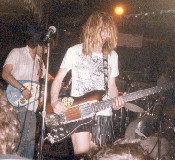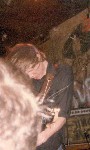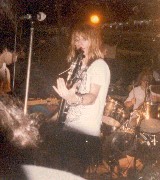 photographs copyright greg fasolino. please don't use without permission.
Have any information on this show? E-mail me!