Candle
Silver Rocket
'Cross the Breeze
Rain King
Teenage Riot
The Wonder 
Hyperstation
Eliminator Jr

None.
QUOTES
["Push It" by Salt-N-Pepa plays while band warms up w. long candle intro]
T: "You ready? 1 2 3 4..."
- Candle
- Silver Rocket
[its too quiet to transcribe but it sounds like the band is discussing what to play next and how to play it]
- 'Cross the Breeze [T-vox]
- Rain King
- Teenage Riot
?: "2 3 4..."
- The Wonder
- Hyperstation
T: "Um, I've got four strings left and I'd like to play the Star Spangled Banner right now." [takes a fairly decent stab at it]
- Eliminator Jr
T: "Thanks! That's it."

OTHER PERFORMERS
Strip Miners

MEMORABILIA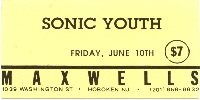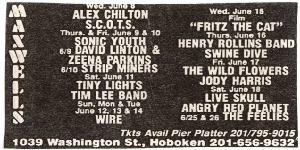 Have any information on this show? E-mail me!