Kill Yr Idols
lots of "Bad Moon Rising" material...


Greg Fasolino writes: The show you have listed as 7-?-85 with Das Damen at "An Outer-Borough Subway Station" in fact took place on June 8, 1985 at a punk/goth club called Subway which was located in Rego Park, Queens. The actual name of the club was "Subway"---the venue was inside the Rego Park subway station. I grew up in Queens and was a regular at this club. Anyway, Das Damen did open. I didn't tape the show, but I believe I took some great photos---let me know if you need scans. I recall the gig vividly (my first time seeing SY) and remember that they played the entire concert with a strobe light going full-tilt all show long. Everyone in the crowd was dizzy from it...
OTHER PERFORMERS
Das Damen

MEMORABILIA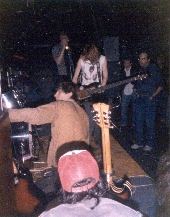 photograph copyright greg fasolino. please don't use without permission.
Have any information on this show? E-mail me!