I Love You Golden Blue
Stones
Pattern Recognition
Unmade Bed
Skip Tracer
Schizophrenia
Bull in the Heather
Catholic Block
Mariah
Paper Cup Exit
New Hampshire
PCH
--
Drunken Butterfly
Teenage Riot



The film "NOISE" by Olivier Assayas is comprised of footage from this festival, including Text of Light and Mirror/Dash appearances.
OTHER PERFORMERS
Luke
Mercury Rev
The Sunday Drivers

MEMORABILIA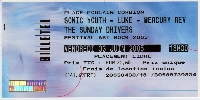 Have any information on this show? E-mail me!