Self-Obsessed and Sexxee 
Becuz 
No Queen Blues 
Washing Machine 
Saucer-Like 
Schizophrenia 
Diamond Sea 

"Self-Obsessed.." listed as "Self-Obsessed and Sxxy" on the set list.
"Becuz" listed as "Jim Carrol aka Becuz".
"No Queen Blues" listed as "Voidoid aka No Queen".
"Washing Machine" listed as "Kim's Tune".
"Saucer-Like" listed as "Thumb".
QUOTES
T: "Hello, we're the opening band. We came out from New York City...and this song is called 'Self-Obsessed and Sexxee.'"
- Self-Obsessed & Sexxee
T: "How'd you guys get such good seats? Did you win those? Really? First in line? Wow...Those are damn good seats...[laughs]...Not that those seats back there are any worse...in fact, I prefer those seats in a way! Far more radical...but these guys can see the nose hairs right here...I have a feeling most people here don't know who we are so in celebration of that...[crowd applauds]...maybe I'm wrong, but...we're just gonna play a bunch of new songs that we wrote that we're trying to work on, so, um, I hope you like em! This one's called 'Becuz'."
- Becuz
- No Queen Blues
K: "This is another new song, it's called 'Washing Machine.'"
T: "Washing Machine? Hi...is this guy praying? Are you religious?"
- Washing Machine
L: "This is called 'Thumb.'"
- Thumb
T: "Alright, here's one we wrote when we were little kids. This is called 'Schizophrenia.' This is for Nardwuar and all his trouble-making friends. Gimme a beat, motherfucker!"
- Schizophrenia
T: "Uh, we have exactly seven minutes left to play for you...and then we gotta go. We appreciate all your love and hate and indifference tonight. Maybe somewhere down that rocky road we'll run into each other again. Yeah, rocky road, you know? It's kind of Joan Jett school of poetry. This song is called 'The Diamond Sea'."
- The Diamond Sea
T: "Thank you, we'll see ya next time."

OTHER PERFORMERS
R.E.M.

MEMORABILIA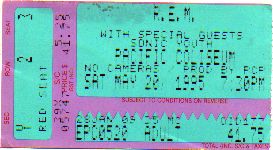 Have any information on this show? E-mail me!