Incinerate
Bull in the Heather
The Sprawl 
Cross the Breeze 
Antenna 
Hey Joni
Sacred Trickster
Calming the Snake
World Looks Red
What We Know
Jams Run Free 
Pink Steam
--
Schizophrenia
No Way 
Kool Thing
--
Teenage Riot




"No Way" not listed on set list. "Brother James" listed on set list but not played.
OTHER PERFORMERS
PartWildHorsesManeOnBothSides

MEMORABILIA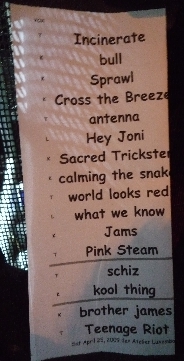 Have any information on this show? E-mail me!