Incinerate
Sleepin' Around
Do You Believe in Rapture?
Pink Steam
Shaking Hell
Rats
PCH
Stones
Turquoise Boy
Lights Out
Sunday
Brother James
--
Making the Nature Scene
Or
--
Mote


Sonic Youth's first performance as a quartet since 2000 (actually, since 04/09/05, but Jim was still in the band at that point, just unavailable).
OTHER PERFORMERS
?

MEMORABILIA

Huge thanks to Francois BISDORFF for the set list scan!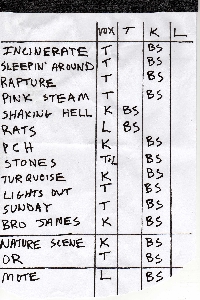 Have any information on this show? E-mail me!