Stereo Sanctity 
The Wonder 
Cinderella's Big Score 
Mote 
Dirty Boots 
Titanium Expose  
Catholic Block 
Mary Christ 
Kool Thing 
'Cross The Breeze 
White Kross 
--
Silver Rocket 

Positive Force Benefit. Live debut of the Goo material.
"My Friend Goo" on set list but not played.
"Cinderella's Big Score" listed as "CORKY" on set list.
"Mary-Christ" listed as "ANIMALS" on set list.
QUOTES
- Stereo Sanctity
T: "Thanks. Am I too loud? I'm really loud. I'm not? This song is called 'The Wonder'. Actually, believe it or not, this song was written about DC, walking around when we first came here, around the buildings, that you guys probably take for granted. I don't even know the name of em, but it was a wonder."
- The Wonder
T: "We're gonna..ha...we're gonna lay a new one on ya. We got a bunch of new ones. Just like the old ones. Except for they're newer. This one's called 'Cinderella's Big Score'. Soundtrack to the movie."
- Cinderella's Big Score
K: "Susanne, could we have a little more light on the stage? We can't do much about the vocals."
T: "Need a light?"
K: "Just pretend this is 1965."
L: "Check. This is another new song, this is called 'Mote'."
T: "It was, um, it was tuned backwards! [laughs]"
L: "Cool. He says 'play it backwards'."
- Mote
T: "Special message! If anybody's parked in the orchestra parking lot, they're towing cars out of there. So, you might want to run out there, try to reason with them. This song is called 'Dirty Boots', if you know what I mean."
- Dirty Boots [false start]
K: "Susanne, can you keep the lights up?"
T: "Wicked! That's from the new album. [laughs] The new album's on a corporate label, it's what we want."
L: "Start it over!"
T: "Do I have to do the intro?"
- Dirty Boots
- Titanium Expose
L: "I think Fugazi already did 'Free Bird'. Don't you wanna play?"
- Catholic Block
T: "And now, for another new one, YES! [laughs] I'm ready to tackle it! Where'd Lee go? Oh! This song is called 'I Am Animal, the Fuck-Priest'!"
- Mary-Christ
- Kool Thing
K: "Thanks."
T: "What? You wanna do two or one? Two more or one more? You wanna hear the new Cher tune? Do you wanna hear it dude?"
[walkman plays "IF I COULD TURN BACK TIME" by Cher]
- 'Cross the Breeze
- White Kross
L: "Thanks a lot. Thanks a lot for putting up with it."
T: "Yeah, he did. This song is in memory of Andy Warhol and Emmet Grogan, it's called 'Silver Rocket'."
- Silver Rocket

OTHER PERFORMERS
Fugazi

MEMORABILIA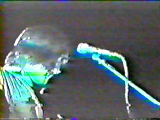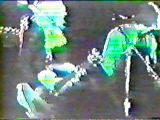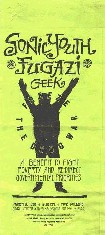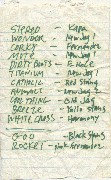 Have any information on this show? E-mail me!