Teenage Riot
Silver Rocket
The Sprawl
Cross the Breeze
Eric's Trip
Total Trash
Hey Joni
Providence
Candle
Rain King
Kissability
The Wonder
Hyperstation
Eliminator Jr
--
Incinerate
Reena
Do You Believe in Rapture?
Jams Run Free
--
Pink Steam


The eighteenth performance of "Daydream Nation".
OTHER PERFORMERS
Dead C

MEMORABILIA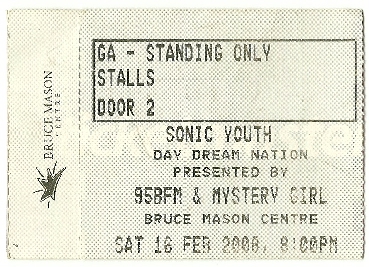 Have any information on this show? E-mail me!