NEW ALBUM: LAST NIGHT ON EARTH • DROPS OCT 8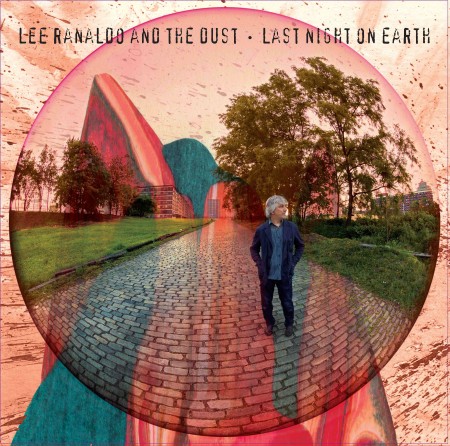 photo John Von Pamer
FROM MATADOR RECORDS 8/13/13:
"A solo record works best when you feel like you're opening a window into somebody's life, experiencing the things they're going through or thinking about, places they're seeing, through their eyes. At its best, you find a universality in it."
– Lee Ranaldo
On October 8 (October 7 in the UK and Europe), Matador Records will be releasing 'Last Night On Earth', the new album from Lee Ranaldo and The Dust (drummer Steve Shelley, guitarist Alan Licht and bassist Tim Lüntzel). Expanding on the groundwork laid down on 2012′s
'Between The Times & The Tides'
, 'Last Night' — while certainly darker in tone & lyrical content than its immediate predecessor, is the sort of dizzying electric guitar clinic that ranks amongst the best from any era. After an exhaustive stretch of domestic and international touring (with more to come — see below) Lee & The Dust have formed a powerhouse unit, and we're confident the results of these Echo Canyon West sessions will impress & inspire for months to come, if not far longer.
Here
an initial sample in the album's "Lecce, Leaving"
PREORDER 'Last Night On Earth' on double LP or single CD from the
Matador Store
PREORDER 'Last Night On Earth' from
iTunes
Lee discusses the album with
WNYC's John Schaefer
(airs 8/13 @ 9PM EST)
--------------------------------------------------------------------------------------------
and here's an overview of the tour dates as posted on
Matador
:
(Some solo dates are not included though, such as those shows with Bang On A Can on Nov
7
,
8
and
9
)
North America :
Tue-Oct-08 Hudson, NY Club Helsinki
Wed-Oct-09 Buffalo, NY Tralf Music Hall
Fri-Oct-11 Toronto, ONT Horseshoe Tavern
Sat-Oct-12 Detroit, MI Trinosophes
Sun-Oct-13 Chicago, IL Empty Bottle
Mon-Oct-14 Madison, WI High Noon Saloon
Tue-Oct-15 Minneapolis, MN The Triple Rock
Thu-Oct-17 Iowa City, IA Gabe's
Fri-Oct-18 Omaha, NE The Waiting Room
Sat-Oct-19 Lawrence, KS The Bottleneck
Sun-Oct-20 St. Louis, MO The Firebird
Tue-Oct-22 Nashville, TN Exit/In
Wed-Oct-23 Asheville, NC The Grey Eagle
Fri-Oct-25 Brooklyn, NY The Bell House
Europe :
sun 10-Nov-2013 NL GRONINGEN – VERA
Mon 11-Nov-2013 DE HAMBURG – KAMPNAGEL
Wed 13-Nov-2013 DE COLOGNE – GEBAUDE 9
Thu 14-Nov-2013 FR METZ – acoustic show at le musée de la cour d'or
Fri 15-Nov-2013 FR METZ – CAVEAU DES TRINITAIRES – MUSIQUE VOLANTE FESTIVAL
sun 17-Nov-2013 CH LAUSANNE – LE ROMANDIE
Mon 18-Nov-2013 FR FEYZIN – Epicerie Moderne
Wed 20-Nov-2013 FR VILLENEUVE D'ASQ – FESTIVAL TOUR DE CHAUFFE AT LA FERME D'EN HAUT
Thu 21-Nov-2013 UK LONDON – THE GARAGE
Fri 22-Nov-2013 UK CAMBER SANDS – ATP FESTIVAL at Camber Sands
Sat 23-Nov-2013 FR PARIS – Boulogne Billancourt BB MIX FESTIVAL
Mon 25-Nov-2013 FR POITIERS – CONFORT MODERNE
Tue 26-Nov-2013 FR TOURS – TEMPS MACHINE
North America again:
Fri-Dec-06 Portland, OR Doug Fir Lounge
Sat-Dec-07 Vancouver, BC Biltmore Cabaret
Sun-Dec-08 Seattle, WA Barboza
Wed-Dec-11 San Francisco, CA The Chapel
Fri-Dec-13 Los Angeles, CA The Echo